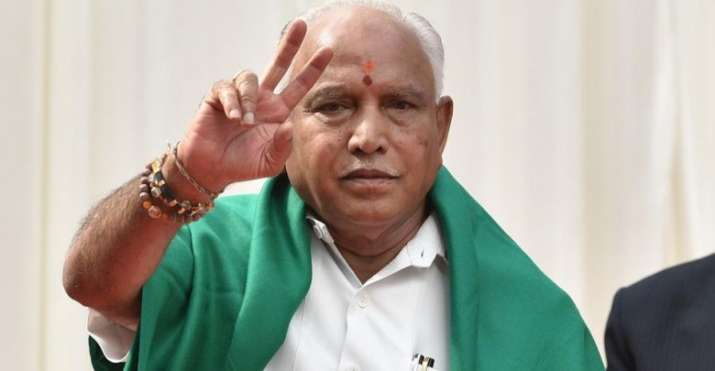 Bharatiya Janata Party (BJP) leader BS Yeddyurappa is all set to take oath as Karnataka chief minister on Friday at 6 pm.
And apart from a Cabinet makeover, the lawmaker has made-over his name too.
What's in a name, you would ask now. A lot, Yediyurappa would say.
The change became public on Friday in his letter to Governor Vajubhai Vala, staking claim to form the government, and later, in the official invitation for the swearing-in ceremony of the BJP leader as Karnataka chief minister.
In the letter, the soon-to-be chief minister has signed as "Yediyurappa" and not "Yeddyurappa".
The letter quotes Yeddiyurappa as asking the governor to invite to form the new government in the state by "today itself" [Friday].
"I will take oath as Chief Minister of Karnataka at Raj Bhavan between 6 pm to 6.15 pm. I request Your Excellency to direct your concerned authorities to make all the necessary arrangements for taking oath," the letter adds.
There are reports that the BJP strongman, who will become chief minister for the fourth time this evening, has gone in for the change based on numerology.
He had changed the spelling of his name from Yediyurappa to Yeddyurappa after he had to resign as chief minister in 2007.
He had to quit barely a week after becoming the CM as the then coalition partner JDS reneged on its promise to share power for 20 months each.
However, it seems to have failed to bring him any luck as the two subsequent terms as chief minister did not last long.
The change is not yet reflected on his Twitter account that goes by the handle @BSYBJP.
In the floor test on July 23, the JD-S-Congress coalition failed to win the confidence motion by 6 votes as they could muster only 99 against 105 of the BJP in a house of 204, excluding the Speaker and in the absence of 20 legislators -- including 14 of the Congress, three of the JD-S, two Independents and one of the BSP.
Yediyurappa has been given a week's time to prove his party's majority in the House.
MUST READ | Yeddyurappa to take oath as Karnataka Chief Minister at 6 pm today