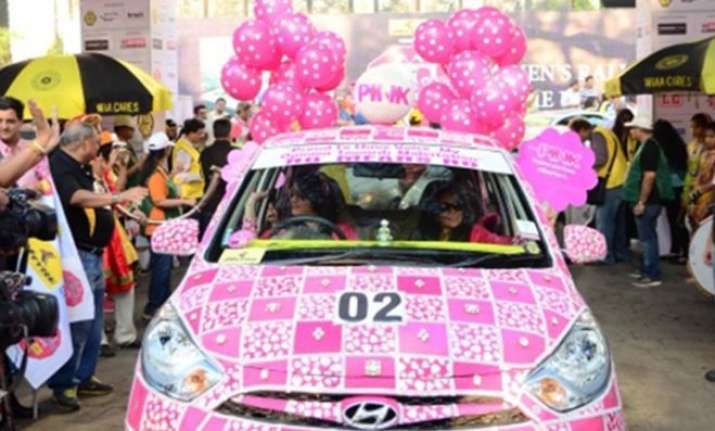 Mumbai marked the International Women's Day in a unique way. In a first of its kind of move, the city showcased its women power as over 800 women in around 250 cars turned up to participate in a car rally.  
Dedicated to the spirit of women, the car rally was planned with a special theme of women empowerment. All the women participants in the rally, took this as the best opportunity to spread awareness about women empowerment.  
The main highlight of the car rally was to create road safety awareness among ladies. In the event the women participants took tour from from Hotel Sahara in Mumbai to Worli Sea Face. From where  they headed to Peddar Road, Girgaum Chowpatty, Marine Drive followed by Churchgate and concluded at Aamby Valley.
It was probably, the best moment of the event, when a girl participant shouted a slogan 'One girl with courage is a revolution', which was followed by other slogan by another girl, 'To hell with sugar n spice'.
Another women participant at the rally, boosted the women's day celebration mood during the rally, when she repeated the slogan, 'we are all about talent, commitment, guts, toughness'.
The colour theme at the car rally was also a tribute all the women on the occasion of women's day.  The participants chose pink and green colour combination to showcase their women spirit.  The brave young girl turned her car into a chariot, with five stallions painted on her bonnet.
It is worthy to mention here that the car rally was organised by Western India Automobile Association (WIAA) to mark International Women's Day.
The winners of the car rally will be felicitated today.