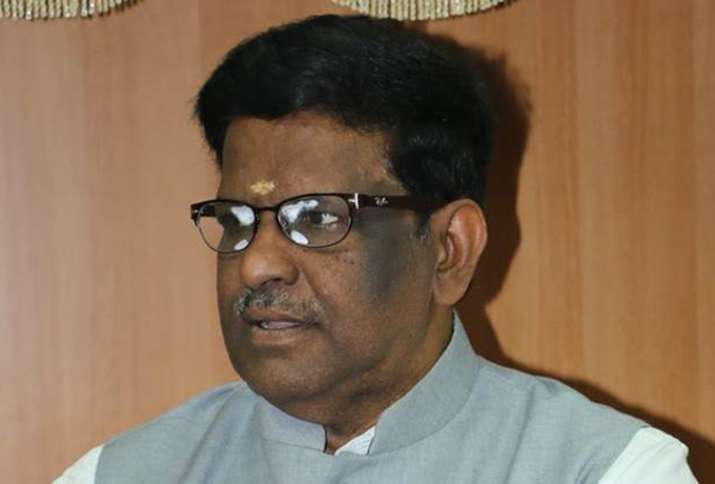 Meghalaya Governor V Shanmuganathan, who has been accused by a woman of molestation, resigned from his post today. 
After allegations by a woman job seeker that she was sexually molested by Meghalaya Governor V Shanmuganathan during a personal interview, over 80 employees of the Raj Bhavan had written to Prime Minister's Office and to Rashtrapati Bhavan demanding his immediate removal. 
Shanmuganathan, in his resignation sent to the President has denied all charges. 
According to a report in the Indian Express, the employees, in a five-page letter, have alleged that "his activities (have) hurt the decorum and prestige of the Raj Bhavan as well as sentiments of the Raj Bhavan employees."
Shillong Raj Bhavan employees, that include officers as well as peons, have alleged that those "activities" include "seriously compromis(ing) the dignity" of Raj Bhavan, converting it into a "young ladies' club", causing severe humiliation, mental stress and torture" to employees, according to the report. 
A veteran RSS activist from Tamil Nadu, Shanmuganathan was appointed as Meghalaya Governor on May 20, 2015, and was given additional charge of Arunachal Pradesh on September 16, 2016, after JP Rajkhowa was removed.
He was also in charge of Manipur from September 2015 to August 2016.
"The worst problem is that the Raj Bhavan has now under this Governor become a place where young ladies come and go at will with direct orders from the Governor. The security of the Governor's house is also being seriously compromised," the letter states.
According to reports in local newspapers, a woman has alleged molestation by the Governor, a charge he has categorically denied. 
The victim alleged that the Governor had a personal interview with her on the night of December 8 for the post of public relations officer and made "inappropriate advances" after he personally called her to attend the interview, according to a report in the Shillong Times. 
The Governor has admitted that he met some candidates separately as well as in a group but he denied calling one of the candidates from a personal number and asking her to come after 6 pm. 
"I wanted to meet them (the job aspirants) before finalising the candidates and they all came.
"Everyone was there for half an hour. I have got great respect for everyone. I have not done anything wrong," he said.
Though the victim has not filed any FIR, Meghalaya DGP SB Singh told the media that the matter was referred to the Government and legal opinion is being sought.