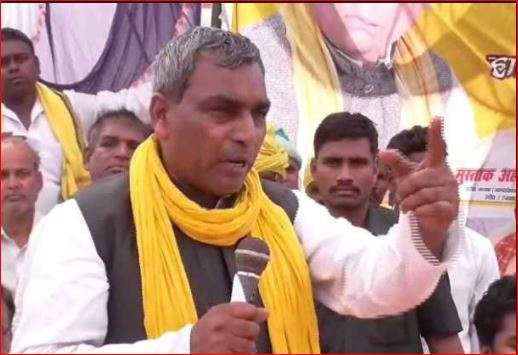 A day after skipping the first year celebrations of the Yogi Adityanath government, sulking alliance partner Suheldev Bharatiya Samaj Party (SBSP) today announced its MLAs would back BJP candidates after its leader met saffron party chief Amit Shah in New Delhi. 
"I have met BJP President Amit Shah, who noted points raised by me and said he will visit Lucknow on April 10 and will sit with me, BJP state president and chief minister to get my problems redressed. We have decided to vote for the BJP in Rajya Sabha polls," SBSP president and cabinet minister Om Prakash Rajbhar told PTI over the phone. 
Polls to ten Rajya Sabha seats from UP are scheduled on March 23. 
Earlier, Rajbhar had sent shock-waves in the ruling dispensation as he made his displeasure with the senior ally known by skipping the celebrations held on the completion of one year of the Yogi Adityanath regime. 
"We have made this government and it is our duty to repeatedly point out shortcomings...Holding celebrations is not going to serve the purpose. Building temples in Mathura and Kashi will not give education to the poor, or toilets and pension to them," Rajbhar had said yesterday. 
"We are in an alliance, but the alliance dharma is not being upheld by the BJP. In one year their role has not been good for us," he had rued. 
Rajbhar also threatened that his party's four MLAs would boycott the coming Rajya Sabha election in case "big brother" BJP does not redress its problems. 
The SBSP has considerable presence in pockets of Purvanchal in eastern UP. 
BJP has fieled has fielded nine candidates for the Rajya Sabha elections. The party is sure of victory in only eight seats.