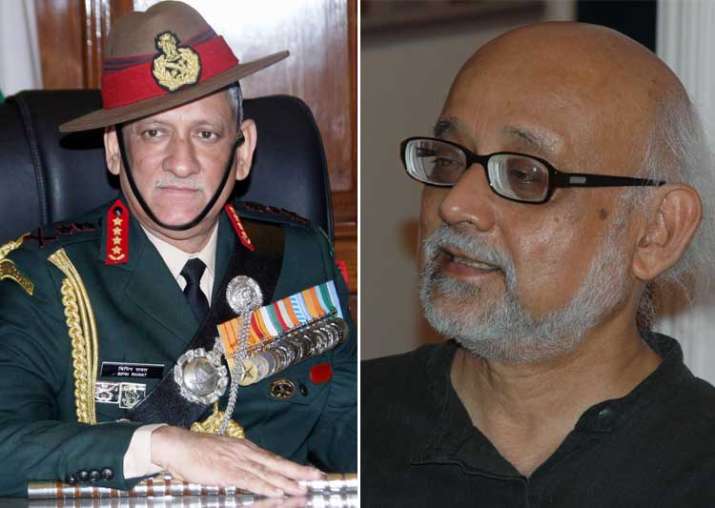 Professor Partha Chatterjee's article in a left-leaning portal comparing Indian Army chief General Bipin Rawat with British Brigadier-General Reginald Dyer, the 'butcher of Amritsar', was both shocking as well as disgusting.
 
As we say, difference of opinion is the hallmark of a vibrant democracy. However, one does not expect people of Partha Chatterjee's academic background to indulge in sophistry to prove a point which is completely devoid of facts.
It only goes on to prove that the frustration of losing both the ideological as well as the electoral battle has forced leftist intellectuals like Partha Chatterjee, a historian and social scientist, who teaches at US-based Columbia University, to stoop to a level where they are not ashamed of speaking hundred more lies in their desperation to justify a single lie. 
 
Writing in a news portal, Partha Chatterjee argued that General Bipin Rawat's defence of Major Leetul Gogoi,  who used an alleged Kashmiri stone pelter as a human shield by tying him to the bonnet of an army jeep in order to save his men and Election Commission officials, was akin to General Dyer defending his decision to butcher thousands of unarmed civilians in Jallianwala Bagh of Punjab way back in 1919. Partha went on to term it as India's General Dyer moment in Kashmir. 
 
One can only feel amused over the absurdity of Partha comparing the two incidents which have not even an iota of similarity, by any stretch of imagination.
 
First of all, no one should forget that Jammu and Kashmir is an integral part of India as the state had signed a legal instrument of accession with Union of India. As we know,  the state of Jammu and Kashmir consists of three different regions – Jammu, Kashmir and Ladakh. There is no disturbance in Jammu and Ladakh. Even in Kashmir valley, the terrorists are active in  a few districts only.
 
What can't be overlooked is the fact that terrorism in a few districts of Kashmir is being driven by religious extremism which, in turn, is being aided and abetted by Pakistan, which is hell-bent on exploiting religious sentiments of Kashmiris to avenge its catastrophic defeat at the hands of India in 1971 that led to the division of Pakistan and creation of an independent Bangladesh. 
 
The Indian state has full legitimate rights to take on those who are challenging the unity and integrity of the country at the instructions of Pakistan. That these terrorists are in a minority, was amply proved when people in large numbers came out of their homes and voted to elect a popular government during state Assembly elections. 
 
Today, Jammu and Kashmir has an elected government in place.  Was there an elected government in India or Punjab when General Dyer 'butchered' thousands of innocent and unarmed civilians in Jallianwala Bagh, Mr Partha Chatterjee? How can you compare apples with oranges, professor?
 
Second, General Dyer ordered killing of thousands of innocent people to create terror in the minds and hearts of Indian people who were fighting to break out of the shackles of foreign yoke. 
 
On the other hand, Major Leetul Gogoi saved hundreds of lives, including the stone pelters, by using a human shield. Just imagine, what would have happened, had he ordered his troops to fire at the mob of bigots who were pelting stones.  
 
On April 9, terrorists forced common people to stay indoors in order to boycott the Srinagar parliamentary bypoll. And to support the nefarious designs of the terrorists, a large number of stone pelters gathered outside a polling booth to disrupt voting and  threaten the EC officials. So,  what were the options for Major Leetul Gogoi under these circumstances?
 
Instead of putting Major Gogoi in the dock, why don't you give him the credit for saving hundreds of lives without firing a single bullet, professor? 
 
And let's not forget that it was the duty of Major Leetul Gogoi to save the lives of EC officials in order to save democracy in an insurgency-torn state and he came up with an innovative "out-of-box" idea that helped him achieve the objective without spilling a single drop of blood  or using a single bullet or pellet. 
 
It was therefore naive on part of Partha Chatterjee to even think of comparing the infamous Jallianwallah Bagh incident with what happened during the Srinanagar parliamentary bypoll on April 9.
 
The bitter truth is that a section of leftists, especially those with Partha Chatterjee's mindset,  have scant regard for India's unity and integrity and they lose no opportunity of standing behind those challenging the territorial unity of the country. Their track record, especially during the 1962 Sino-Indian war, will leave no body in doubt as to whether they are loyal to their motherland or not. 
 
Partha Chatterjee should be ashamed of trying to insult the Indian Army which is making sacrifices to protect the honour of the country and save democracy in Kashmir. He should know, it was the same army which came to the rescue of Kashmiris when their lives were endangered by severe floods in the state. Where were you at that time, professor?
 
Finally, let's be clear that we all stand for freedom of press, speech and expression. However, in the name of freedom of expression, should journalists or historians  be allowed to breach the law of the land?