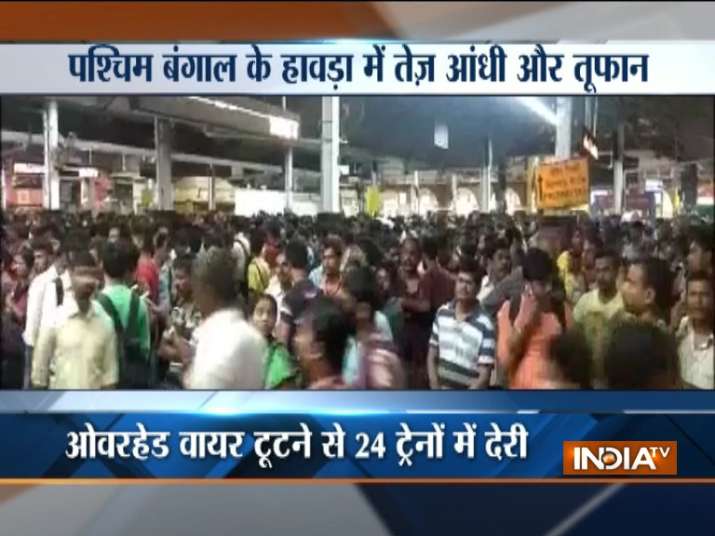 At least eight people were killed and several others injured on Tuesday after storms accompanied by rains lashed the West Bengal capital and adjoining areas. As per reports, four deaths were reported from Kolkata and four from Howrah. Unconfirmed sources, however, put the death toll at 13. 
People returning home after work also faced major traffic jams and snarls as Metro and more than 24 trains were running late from Howrah station. As per airport officials, departure and arrival of some flights were also delayed due to gutsy winds.
Meanwhile, mobile and internet services were also hit with the storm snapping overhead wires and damaging mobile towers. 
HERE'S ALL YOU SHOULD KNOW:
#The metrological office said a norwester -- seasonal storm common in this part of the world -- with gale speed of 84 km per hour hit the city and other South Bengal districts around 7:42 pm. Another storm struck Kolkata and adjoining districts with a wind speed of upto 98 km soon after at 7:55 pm.
#The storm played havoc with the public transport system, as trams and trains halted on their tracks with the overhead wires snapping. 
#Flight services were affected for 100 minutes at the NSCBI Airport as planes bound for Bhubaneswar, Delhi and Agartala took off late.
#Suburban train services of South Eastern Railway and Eastern Railway went haywire as trains were stopped at various stations.
#Two mobile towers in Uttarpara and Hindmotor of Hooghy district gave way, throwing vehicular traffic off-gear.
#The Kolkata Municipal Corporation pressed into service a disaster management team to clear the debris.