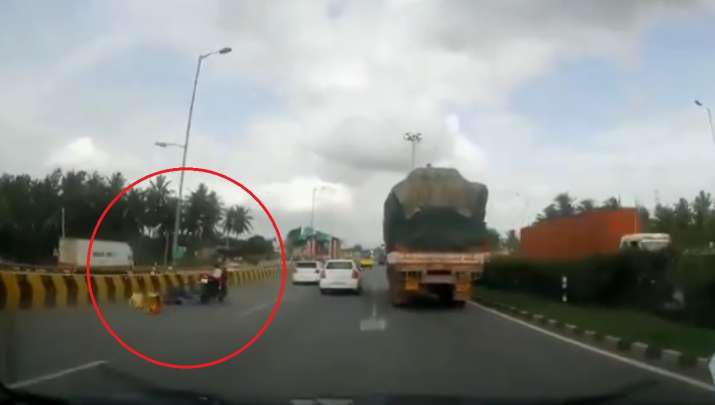 In a miraculous save, a five-year-old escaped unhurt after an accident knocked off his parents from the motorcycle on a busy Bangalore road. The shocking video, released by the Bangalore Police, shows the child being driven off alone on the fast bike in heavy traffic and still escaping unscathed. 
The video of the incident, which took place on Friday evening, shows a family of three- father, mother and the child, driving on a highway when they bump into a stationary scooty ahead of them. The mother of child is thrown off into the air by the accident and since she was holding her husband tightly, he is also dislodged from the bike. But shockingly, the child remains seated on the bike which continues to speed off at 80 km/hr. 
While the cars around the bike start to slow down in the fear of hitting the child, the bike starts to move from right lane to middle, coming too close to a truck, which carried on at its speed seemingly unaware of the child on the motorcycle. The video captured by a dashboard camera of a car behind the motorcycle shows the child coming dangerously close to the truck, before it speeds off in the last second, allowing the bike to further move from middle lane to left. But now the kid was in danger of hitting the road divider. 
But in a true miracle, the bike slows down to virtual still before it tilts down toward bushes on the divider and child is slowly dislodged from bike and on to green grass, safe and sound. The video ends with a hoard of people rushing to help the child. The child was riding the bike all alone in the thick traffic for at least 20 seconds. 
Watch full video here: 
While, the internet hailed the incident as miraculous and divine, the Bangalore Police noticed a series of traffic violations by the family, which caused the incident. 
"Death escapade. Mistakes Highlighted - speed, no helmets, overtaking from left side & using mobile phones..Why the baby was supposed to pay the price for your mistakes? Fortunately, the kid was unhurt and safe.PS:These kinds of miracles don't happen often! #AbideTrafficRules," Bangalore Police's social media official tweeted from his handle @HMLokesh. 
Death escapade
Mistakes Highlighted - speed, no helmets, overtaking from left side & using mobile phones..

Why the baby was supposed to pay the price for your mistakes?

Fortunately, the kid was unhurt and safe.

PS:These kinds of miracles don't happen often!#AbideTrafficRules pic.twitter.com/ecOm6ZLCpL

— BCP MAN (@HMLokesh) August 20, 2018
Yes we believe that god is everywhere but he always doesn't be around us to save us because of our stupidity or foolishness. Follow the traffic rules and yorself be a saver nor a destroyer!!

— Nischitha Naik (@naik_nischitha) August 20, 2018