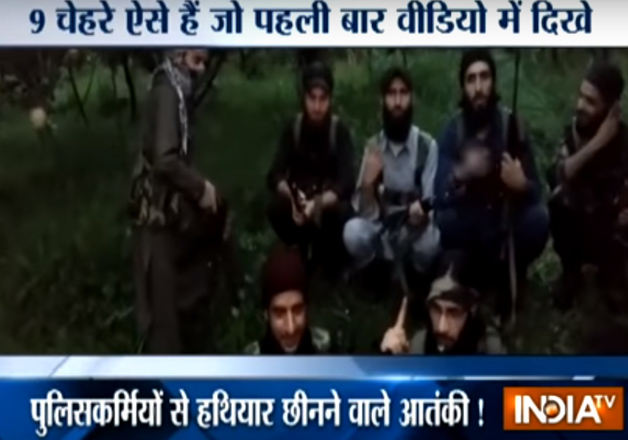 Days after militants dressed in army uniform decamped with five service rifles of cops guarding a TV tower in Kashmir's Anantnag district, a new video shows 12 militants, believed to be from the Hizbul Mujahideen, brandishing weapons, some of which are the same guns snatched from the policemen. 
The video, which seems to be made in an orchid of south Kashmir, features 12 militants, nine of which are fresh faces. While 11 of them can be seen wearing kurta, one is seen in the guise of an army man. 
The video surfaces a day after Hizbul commander Zakir Musa had released a video in which he was seen threatening the Indian Army of dire consequences.
Zakir Musa is believed to be the successor of Hizbul's poster boy Burhan Wani, who was gunned down in an encounter with the Indian Army on July 8 this year. 
Wani's killing led to a state of turmoil and violence in the Valley, leaving more than 80 people dead and thousands injured.

 

The security agencies, on the other hand, have raised concerns over the increasing number of gun-snatching incidents. Security forces have been put on an alert in entire south Kashmir to track down the militants who decamped with the rifles.
In the last one and a half months, more than 30 rifles have been snatched from policemen by militants in south Kashmir alone. 
Shockingly, sources claim the figure of missing weapons is close to 100. Officials believe these weapons are used by militant groups to boost their cadre. 
Moreover, it is believed that Hizbul Mujahideen had sent an open audio message asking the youth to snatch weapons.
The opposition in the state, meanwhile, has targeted the government over the issue accusing them of lack of clarity in handling such incidents.