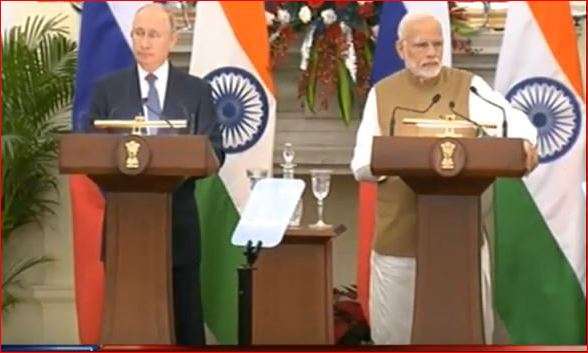 Russian President Vladimir Putin on Friday held discussions with Prime Minister Narendra Modi at Hyderabad House. India and Russia signed S-400 missile defence systems deal worth $ 5 billion despite opposition from the United States which had slapped sanctions against China last week for a similar air defence deal with Russia. India, however, is going ahead with the S-400 deal with Russia because of the traditional friendship with Kremlin.
Here are the highlights:
04:45 pm: India-Russia trade rises 20 per cent in 2017-18. India most open economy in respect to FDI, says PM Modi. 
पिछले वर्षों में FDI के क्षेत्र में भी हमने काफी Reforms किए हैं।

आज हम FDI की दृष्टि से सबसे खुली अर्थव्यवस्था हैं।

भारत में 90% से ज्यादा मंजूरियां अब Automatic Route पर दी जा रहीं हैं।

इसी का परिणाम है कि हमारी FDI पिछले 3 साल में लगभग दोगुना हुई है: PM

— PMO India (@PMOIndia) October 5, 2018
04:41 pm: We don't leave a chance to meet each other. The world is changing, but the friendship between India and Russia never changed: PM Modi at India-Russia Business Summit
02:50 pm: Russia's ties with India strategic and deep, says President Putin
02:47 pm: We held discussions on many issues: President Putin
02:45 pm: India, Russia together on many issues: President Putin
02:42 pm: India gives priority to its relations with India. Russia has always been a part of India's growth story: PM Narendra Modi 
02:41 pm: New era in India-Russia ties: PM Modi
2:40 pm: India has deep ties with Russia, says PM Modi
02:38 pm: India, Russia sign 8 agreements
02:35 pm: PM Modi, President Putin address joint press conference
01:44 pm: Official announcement in this regard to be made soon: Sources
01:42 pm: India to buy 5 S-400 missile regiment from Russia that will cost RS 39,000 crore
01:40 pm:  India inks S-400 Triumf missiles deal with Russia: Sources
11:45 am: "A relationship radiating warmth and affection!" tweets MEA spokesperson Raveesh Kumar 
A relationship radiating warmth and affection!

PM @narendramodi welcomed @KremlinRussia_E Vladimir Putin for the 19th India-Russia Annual Bilateral Summit continuing the series of fruitful engagements this year! #DruzbaDosti pic.twitter.com/KQQXrausdy

— Raveesh Kumar (@MEAIndia) October 5, 2018
11:20 am: President Putin meets PM Modi at Hyderabad House
#WATCH Russian President Vladimir Putin meets PM Narendra Modi at Hyderabad House in Delhi. #PutininIndia pic.twitter.com/rSzDQSwVxr

— ANI (@ANI) October 5, 2018
After landing in India on Thursday evening for a two-day visit, President Putin drove straight to PM Modi's residence at 7 Lok Kalyan Marg for dinner. 
It was an informal meeting between the two leaders. President Putin's formal engagements will begin today.
India and Russia are likely to sign 20 agreements during President Putin's visit in various areas including defence, space and energy.
President Vladimir Putin has arrived on a two-day visit for attending the 19th India-Russia annual bilateral summit.
A high-level Russian delegation has also arrived with President Putin for this summit.
President Putin is likely to address a joint press conference with PM Modi at around 1.30 pm.
Watch: President Putin to meet PM Modi today