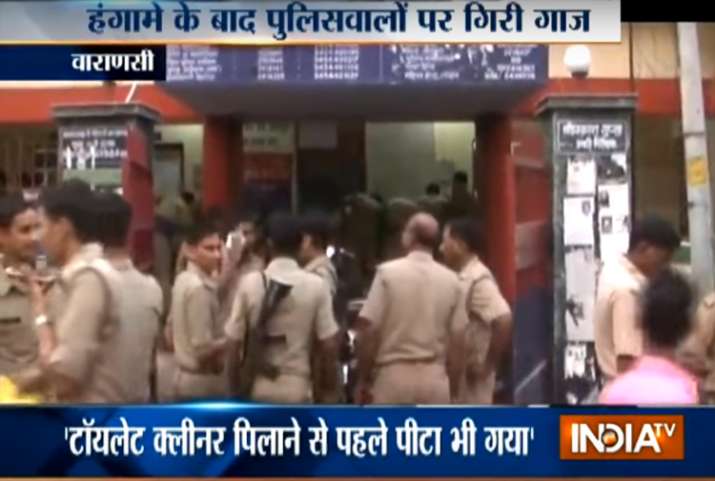 A 25-year-old activist of Hindu Yuva Vahini allegedly committed suicide by consuming toilet cleaner inside a police station in Varanasi on Tuesday. Family members and neighbours of the deceased, however, alleged that he was forced to drink the toxic liquid by cops. 
Pintu Rajbhar, of Saraiya locality, was called at Jaitpura police station for questioning for allegedly eloping with a 17-year-old girl, SP (City) Dinesh Singh said. He consumed toilet cleaner inside the bathroom of the police station and was rushed to BHU trauma centre where he died during treatment, police sources said. 
Saraiya police outpost in-charge Durgesh Yadav has been suspended and Station Officer of the Jaitpura police station Sriprakash Gupta has been sent to police lines, SSP R K Bhardwaj said. 
Following Pintu's death, the locals blocked the Saraiya Road demanding that the police personnel who "harassed" him be booked, sources said. 
The blockade was lifted after senior officials met the protesters and assured them that action would be taken. 
Pintu was a member of Hindu Yuva Vahini, a right-wing outfit founded by Chief Minister Yogi Adityanath. 
According to reports, Pintu had eloped with a girl the on October 6 and had taken shelter at his sister's house in Mirzapur. When his sister found out that the girl was minor, she sent has back home. However, the girl again fled from her home on October 8 and her family lodged an FIR against Pintu.
Police had called Pintu to Jaitpura police station for questioning when he allegedly consumed the toilet cleaner.