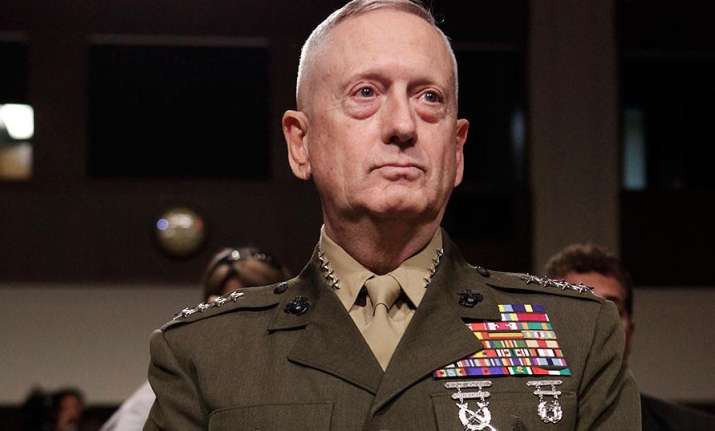 US Defence Secretary James Mattis, who arrived in New Delhi late Monday for a two-day visit to India, will today meet Prime Minister Narendra Modi and Defence Minister Nirmala Sitharaman, seeking to take the defence ties between two nations to the next level. 
Prior to holding talks, Mattis will lay a wreath at the Amar Jawan Jyoti at India Gate and inspect tri-service guard of honour at the South Block lawns.
The visit by Mattis is the first by a top US official since Donald Trump became US President in January this year. 
Obsolete F-16s, sale of 22 Sea Guardian, security situation in Afghanistan and the South China Sea are likely to dominate the agenda of the September 26 meeting between Mattis and Sitharaman. 
Particularly, sale of 22 Sea Guardian drones is likely to be on top of the agenda, a $2 billion sale that could see the Indian Navy acquire the world's most advanced maritime reconnaissance drone.
  
The 'game changer' deal was cleared by the US during President Donald Trump and PM Modi's meeting in June this year. 
This is also the first follow-up visit by a US cabinet official after Modi's June trip to the US. During the visit, the two countries are expected to review the defence and strategic decisions taken by Mr. Modi and US President Donald Trump in June.
While no specific defence trade deal is likely to be announced during Mattis' India visit on September 26-27, sources said there would be discussions on two specific proposals of F-16 and F-18A under the Make in India campaign, along with efforts to identify new projects under the ambitious Defence Technology and Trade Initiatives (DTTI).
The Trump administration wants to sell F-18 and F-16 fighter planes to India, built by American companies Boeing and Lockheed Martin respectively. Both companies have offered to assemble these planes in India.
In his interaction with the Indian leaders, Mr. Mattis is also expected to discuss how to advance and Major Defence Partnership, a designation given to India by the previous Obama Administration which has been continued by the Trump Administration.
India-US defence ties not at exclusion of others, says Mattis
Mattis on Monday said that the strengthening of strategic relationship with India is not at the expense of others as he praised New Delhi for supporting the fight against terrorists in Afghanistan.
India, he said, has been a constant supporter of the fight against terrorists in Afghanistan. He lauded India for contributing tens of thousands of dollars for building infrastructure in Afghanistan and training Afghan officers.
Responding to a question on Pakistan, Mattis said it has come out recently again saying that they are fighting the terrorists. "I think Pakistan will find nothing out of line with India and the US alignment in the same fight," he said.