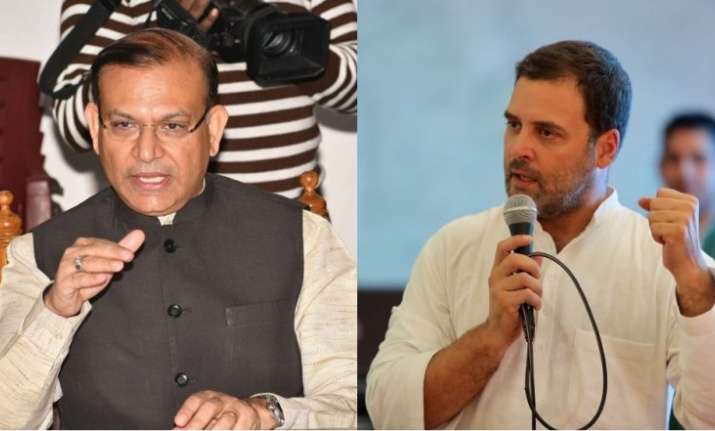 Union Minister Jayant Sinha who sparked widespread controversy for garlanding Ramgarh lynching convicts on Thursday challenged Congress President Rahul Gandhi to a live debate to the issue.
Sinha, who took to Twitter to express his regret over the episode, said the Congress leader should join him in the debate in a civilised manner if the latter thought that his "personal conduct was disgusting". 
"I invite Sh. @RahulGandhi ji to a live debate," the Minister of State for Civil Aviation tweeted and attached a note with it, terming the Ramgarh incident of June 29, 2017 as "distressing" and "terrible". 
"Let him (Gandhi) not hide behind his social media handles and practice shoot-and-scoot politics. Our great Republic deserves no less," he said. 
In his note on Thursday,  Sinha said the Congress president had taken the attack against him to a "personal level". 
"He has condemned my education, values and humanity. I challenge him to a live debate in Hindi or English on the Ramgarh lynching case," the minister said on Twitter. 
Sinha said many in social media, various political parties and media outlets have said that he 'sympathised' with vigilantes because he welcomed the Ramgarh convicts. 
"I did not intend, in any way, to condone vigilantism, and I sincerely regret if that is the impression I gave," he said. 
Sinha had in Ranchi on Wednesday apologised over the garlanding row in face of intense criticism from the Opposition. 
I invite Sh. @RahulGandhi ji to a live debate. pic.twitter.com/7c3cE18uKE

— Chowkidar Jayant Sinha (@jayantsinha) July 12, 2018
He said the events in Ramgarh on June 29, 2017 were distressing and terrible and totally unacceptable. 
Those who commit vigilantism and break the law should be fully punished, the minister said. 
Stating that the case was sub judice and the bail order of the accused was in public domain, Sinha requested those interested in the matter to study these materials carefully and form their independent views. 
Rahul Gandhi had on July 10 supported a petition against Sinha which sought withdrawal of his Harvard alumni status. 
"If the sight of a highly educated MP and central minister, Jayant Sinha, garlanding and honouring criminals convicted of lynching an innocent man, fills you with disgust, click on the link and support this petition," Gandhi had said on Twitter, urging people to sign the petition against the Union minister. 
Jayant Sinha landed himself in controversy last week when photographs surfaced showing the minister welcoming them at his residence. Sinha was also seen garlanding the eight convicts in the Ramgarh lynching case at his residence on the outskirts of Hazaribagh. 
Sinha clarified his actions in a series of tweets and said that irresponsible statements were being made about his actions since he was "honoring due process of law."
Soon after the incident, Jayant Sinha faced the ire from many political leaders, including his own father and former BJP leader and Union Minister Yashwant Sinha who said that he did not approve of his son's action.