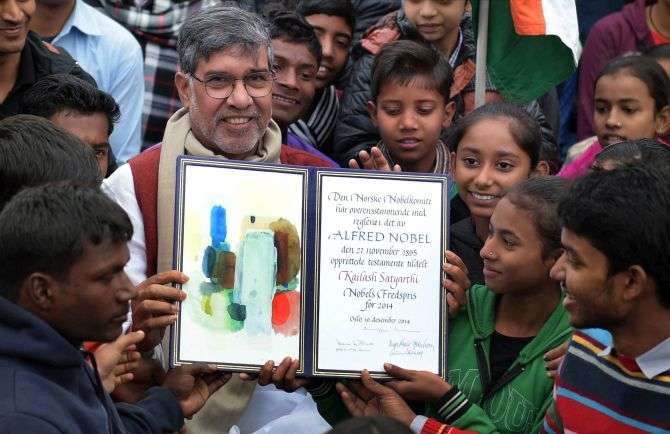 The Delhi Police has arrested three people in connection with the theft at Nobel Laureate Kailash Satyarthi's house and recovered the stolen items. 
In a burglary at Satyarthi's house in southeast Delhi's Kalkaji area on February 7 night, the Nobel Prize replica, citation and ornaments were stolen. 
Rajan, Sunil and Vinod were arrested and the stolen Nobel replica, citation and other jewellery items recovered, said a senior police officer. 
"The replica of the Nobel Peace Prize, some jewelleries, a laptop and some other valuables were recovered from the possession of the accused arrested last night (Saturday night)," Romil Baaniya, Deputy Commissioner of Police (South-East), was quoted as saying by IANS.
Two other houses in the same area as Satyarthi's had also been broken into, police said. 
A replica of the Nobel Peace Prize and its citation awarded to Satyarthi were among the valuables stolen from his southeast Delhi residence in his absence on February 7. 
It was during his dinner with the President of Panama, his wife and other dignitaries, including the Indian ambassador to Panama that he learnt of the theft. 
The child rights activist won the Nobel Peace Prize in 2014. He shared the prize with Pakistan's education activist Malala Yousafzai. 
Satyarthi had presented his Nobel Peace Prize medal to President Pranab Mukherjee in January, 2015. 
The original medal has been preserved and is now on display at the Rashtrapati Bhavan Museum, his office said. 
Satyarthi yesterday said that he was pained at the theft of his Nobel citation and ornaments given to his wife by his mother as they were precious for the family. 
He also said that the theft has strengthened his resolve to continue working for the cause of children and he has not thought about hiring additional security.