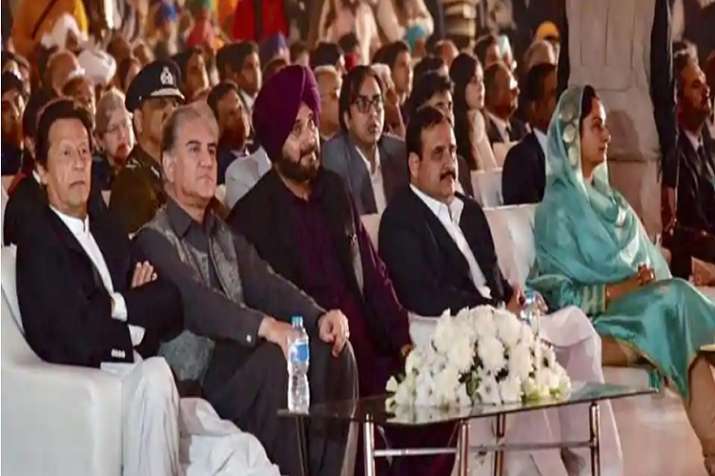 A major war of words has erupted over the Bharatiya Janata Party (BJP) and Congress over Punjab minister Navjot Singh Sidhu's visit to Pakistan to attend the groundbreaking ceremony of the Kartarpur Corridor. 
Many Punjab ministers have demanded his resignation over his jibe at Chief Minister Captain Amarinder Singh and calling Rahul Gandhi as his 'captain'.  Reacting to this, the Punjab ministers said if Sidhu, who holds the local bodies and tourism portfolios, didn't consider Amarinder Singh to be his captain, he should quit the chief minister's team.
Earlier in the day, Sidhu backtracked from his original statement and said that he went to Pakistan on Prime Minister Imran Khan's personal invite. 
"Get your facts right before you distort them, Rahul Gandhi Ji never asked me to go to Pakistan. The whole world knows I went to Pakistan on Prime Minister Imran Khan's personal invite," Sidhu tweeted.
Captain Amarinder Singh had declined the invite from Pakistan to attend the groundbreaking ceremony of the Kartarpur Sahib Corridor in the light of the recent grenade attack in Amritsar.  However, he stated that Sidhu's visit to Pakistan was his 'way of thinking'. 
Fight between 3 captains: Sushma Swaraj on Sidhu's Pak visit, Punjab CM's remark
External Affairs Minister Sushma Swaraj declined to get dragged into the quagmire saying the fight is between the three captains, Pakistan's cricket captain Imran Khan, India's military captain Amarinder Singh and Congress captain Rahul Gandhi.
Addressing a press conference in Rajasthan's Bikaner, she said; "This is a fight between three captains. One is a cricket captain (Pakistan Prime Minister Imran Khan), one is a military captain (Captain Amarinder Singh) and another one is a Congress captain (Rahul Gandhi). I don't want to comment more on this."
BJP gave us three Modi's, says Navjot Singh Sidhu
Launching a fresh salvo at the BJP in the poll-bound state of Rajasthan, Congress leader Navjot Singh Sidhu said that while Congress gave the nation four Gandhis, BJP gave us three Modis- referring to Lalit Modi, Nirav and PM Modi and accused the Prime Minister of sitting on the lap of Anil Ambani.
"Congress gave us four Gandhis, Rajiv Gandhi, Indira Gandhi, Sonia Gandhi, and Rahul Gandhi. BJP gave us three Modis, Nirav Modi, Lalit Modi and the one sitting in Ambani's lap Narendra Modi," Sidhu said at an election rally in Kota. 
He further stated that it was the Congress who made India free from the British rule. " You cannot question history. The dream of Independence became possible because of leaders like Jawaharlal Nehru, Abdul Kalam Azad and Sardar Patel. Democracy is run by goons under the rule of BJP", Sidhu said.
Sidhu's 'captain' remarks twisted and taken out of context , says wife Navjot Kaur Sidhu
Amid the political slugfest over Sidhu's 'captain', his wife Navjot Kaur Sidhu stated that his comments were twisted and taken out of context. Navjot Kaur said Punjab Chief Minister Amarinder Singh was like a father-figure to her husband.
"Navjot Sidhu's heart is clean. He has not committed any mistake that he should resign. He has already said Capt sahib (Amarinder) is a father-figure to him. If outside Punjab, he said Rahul is the captain, what is wrong on that? He has not called (Narendra) Modi his captain. He is only calling Rahul his captain. And Capt Sahib's (Amarinder's) captain too is Rahul, isn't it?" PTI quoted Kaur as saying.
Sidhu's visit to Pakistan to attend Imran Khan's swearing-in ceremony as prime minister of Pakistan in August this year had come under fire from the Opposition for his hug to Pakistan Army Chief General Qamar Javed Bajwa.
According to PTI, the issue might come up during the state cabinet meeting on Monday. 
Sidhu had claimed that the Pakistan army chief had told him about "making efforts to open the Kartarpur corridor".