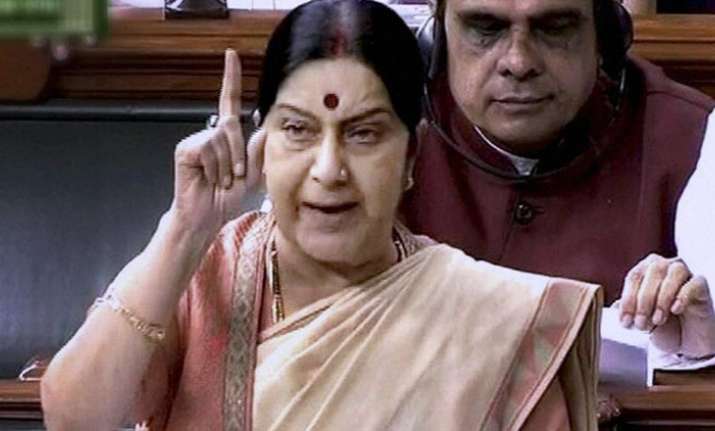 External Affairs Minister Sushma Swaraj today informed the Parliament that she will make a statement on former Indian naval officer Kulbhushan Jadhav, sentenced to death by a Pakistani army court,  in both Lok Sabha and Rajya Sabha on Thursday.
During the Zero Hour, members of various political parties, including the Congress, Shiv Sena, Trinamool Congress and AIADMK, strongly protested the way Jadhav's family members were treated by Pakistan authorities when they had gone there to meet Jadhav, who is languishing in a Pakistani prison.  
Swaraj, who was present in the House, said a statement on the issue would be made tomorrow. 
While strongly criticising the happenings, Congress leader in the Lok Sabha Mallikarjun Kharge demanded that Jadhav should be brought back. 
Shiv Sena's Arvind Sawant also raised the issue and said India should not keep silent in the matter.  Describing Pakistan as "hypocritical", Trinamool Congress leader Saugata Roy said the incident should be criticised and demanded that Swaraj should speak on the issue.  
Condemning the incident, AIADMK M Thambidurai said asking a woman to remove her 'mangal sutra' is an insult to the country. 
The meeting between Jadhav and his mother and wife took place on December 25 at the Pakistani foreign affairs ministry in Islamabad after repeated requests by India for family access.
Meanwhile, India has slammed Pakistan for the manner in which the meeting between Jadhav and his wife and mother were conducted, saying Islamabad "violated the letter and spirit of our understandings" over the meeting.
In a statement, India said the manner in which the meeting was conducted and its aftermath "was clearly an attempt to bolster a false and unsubstantiated narrative of Jadhav's alleged activities" and "the exercise lacked any credibility"
It also pointed out that the two women were made to remove their mangal sutra, bangles and bindi ahead of the meeting, and were not allowed to converse in their mother tongue Marathi.
However, Pakistan has rejected as "baseless" India's contentions that Jadhav's family was harassed and claimed that his wife's shoes were confiscated on security grounds as there was "something" in it.
The Foreign Office in a statement said that Pakistan does not wish to indulge in a "meaningless battle of words" and categorically rejects India's baseless "allegations and twists" about attitude of authorities during Jadhav's meeting with his wife and mother.
(With agency inputs)