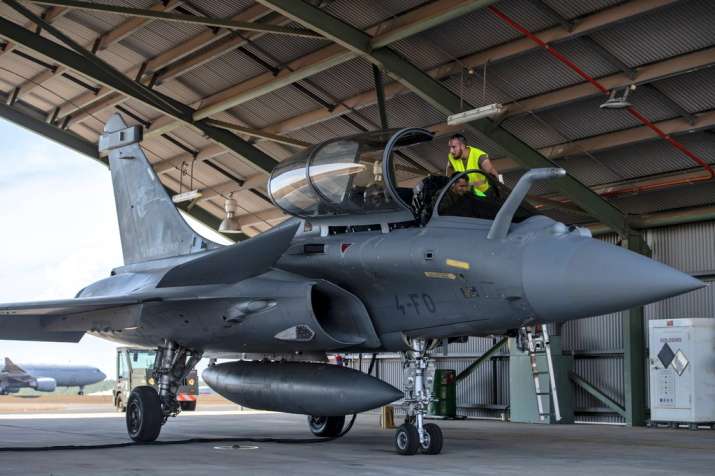 The Supreme Court will on Wednesday pronounce its verdict on the petitions seeking a review of its December 14, 2018 order that dismissed PILs for a probe into alleged irregularities in the procurement of 36 Rafale fighter jets from France.
A bench of Chief Justice Rajan Gogoi, Justice Sanjay Kishan Kaul and Justice KM Joseph will pronounce judgement on Centre's preliminary objection that privileged documents can't be relied on for re-examining Rafale decision.
Interestingly, the verdict will come a day before the polling for Phase I the Lok Sabha elections. 
The petitions have been filed by former Union ministers Yashwant Sinha and Arun Shourie and advocate Prashant Bhushan, and the other by Aam Aadmi Party MP Sanjay Singh.
In an affidavit submitted to the court last month, the government had sought a dismissal of the petitions. The government told the top court that certain documents submitted by the review petitioners were "sensitive to National Security" and their "unauthorized photocopying and leakage" constituted "penal offences under the Indian Penal Code including theft". 
Earlier on Thursday, the Supreme Court said it will first decide on the preliminary objections raised by the Centre that the documents on which it was claiming 'privilege' cannot be relied upon to re-examine the verdict in the Rafale fighter jet deal with France.
Following is the chronology of events in the Rafale fighter jet deal case: 
Dec 30, 2002: Defence Procurement Procedures (DPP) adopted to streamline procurement procedures.
Aug 28, 2007: Ministry of Defence issues Request for Proposal for procurement of 126 MMRCA (medium multi-role combat aircraft) fighters.
September 4, 2008: Mukesh Ambani-led Reliance group incorporates Reliance Aerospace Technologies Ltd (RATL).
May 2011: Air Force shortlists Rafale and Eurofighter jets.
January 30, 2012: Dassault Aviation's Rafale aircraft comes up with the lowest bid.
2014
March 13:Work Share agreement signed between HAL and Dassault Aviation under which they were responsible for 70 per cent and 30 per cent of the work, respectively, for 108 aircraft.
August 8: Then defence minister Arun Jaitley tells Parliament that 18 direct 'fly-away' aircraft expected to be delivered in 3-4 years from signing of the contract. Remaining 108 aircraft to be delivered in the next seven years.
2015
April 8: The then foreign secretary says detailed discussions underway between Dassault, MoD and HAL.
April 10: New deal for acquisition of 36 direct 'fly-away' aircraft from France announced.
2016
January 26: India and France sign MoU for 36 Rafale aircraft.
September 23: Inter-governmental agreement signed.
November 18: Government states in Parliament that the cost of each Rafale aircraft to be approximately Rs 670 crore and that all aircraft will be delivered by April 2022.
December 31: Dassault Aviation's Annual Report reveals the actual price paid for the 36 aircrafts at about Rs 60,000 crore, more than double the government's stated price in Parliament.
2018
March 13:PIL in SC seeks independent probe into Centre's decision to procure 36 Rafale fighter jets from France and disclosure of the cost involved in the deal before Parliament.
September 5: SC agrees to hear PIL seeking stay on Rafale fighter jet deal.
September 18: SC adjourns hearing on PIL seeking stay on Rafale fighter jet deal to October 10.
October 8: SC agrees to hear on October 10 fresh PIL seeking direction to Centre to file in "sealed cover" the details of the agreement for buying 36 Rafale fighter Jets.
October 10: SC asks Centre to provide details of decision making process in the Rafale fighter jet deal in a sealed cover.
October 24: Former Union ministers Yashwant Sinha and Arun Shourie and activist-lawyer Prashant Bhushan moves SC, seeking registration of FIR into Rafale fighter jet deal.
October 31: SC asks Centre to place before it in a sealed cover within 10 days the pricing details of 36 Rafale fighter jets.
November 12: Centre places price details of 36 Rafale fighter jets in a sealed cover before SC. It also gives details of steps that led to finalisation of the Rafale deal.
November 14: SC reserves order on pleas seeking court-monitored probe in Rafale deal.
December 14: SC says there is no occasion to doubt the decision-making process of the Modi government and dismisses all the petitions seeking direction to the CBI to register an FIR for alleged irregularities in the jet deal.
2019
January 1: Congress claims that it has audio recordings that show a Goa BJP minister saying that former defence minister Manohar Parrikar possesses all files related to the Rafale jet deal.
January 2: Rahul Gandhi takes Rafale to Parliament. Asks permission to play Goa tape in Lok Sabha. Union minister Arun Jaitley responds to Gandhi in house, says "There are some people who have a natural dislike for truth". Ruckus in Parliament as paper planes fly all around!
February 8: New report reveals Ministry of Defence objected in 2015 to the PMO's "parallel negotiations" with France on the Rafale defence deal. Rahul Gandhi calls it "black and white proof of corruption". Nirmala Sitharaman hits back, says Defence Ministry's reply to 2015 note should also be published.
February 21: SC agrees to hear the review petitions in the case.