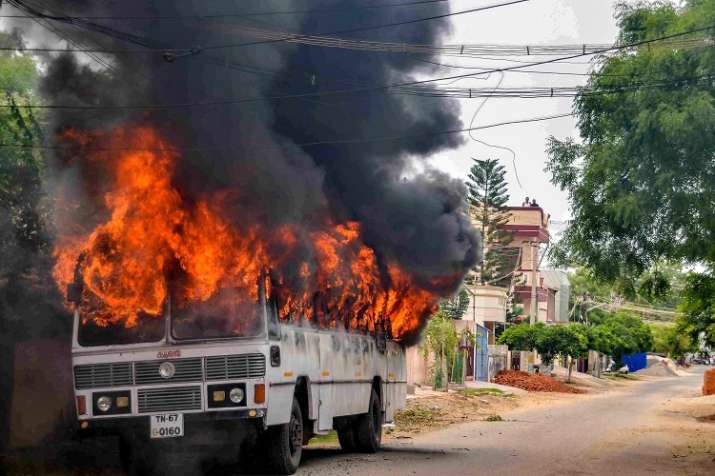 One more person, who was injured in police firing during anti-Sterlite protests in Thoothukudi (Tuticorin) on  Tuesday, died on Thursday taking the death toll to 13. Over 70 people undergoing treatment at a local hospital in the coastal Tamil Nadu city which has witnessed massive violence over the past couple of days. 
While there has been no report of fresh violence in Thoothukudi, the administration has suspended internet service in the city and adjoining districts of Tirunelveli and Kanyakumari for five days to prevent spread of rumours through social media and help bring public tranquility. 
The Tamil Nadu government had on Wednesday, May 23, transferred Tuticorin District Collector and Superintendent of Police Tuticorin District Collector N Venkatesh has been transferred and Tirunelveli District collector, Sandeep Nanduri has been appointed in his place, an official release said. 
As it happened:
08:05 pm: Total of 13 people have died, including 11 men & 2 women, 102 people have been injured out of which 19 are severe cases. vehicles worth Rs 1 crore 27 lakh have been burnt down: Shailesh Kumar, IG (South Range) 
08:00 pm: We have cut Sterlite's electricity, govt is also not willing to let it run. We have cut the electricity that itself shows that we want to shut it down: District Collector
06:20 pm: 
05:12 pm: 
04:26 pm: The electricity supply to Sterlite Industries has been cut off: Gagandeep Singh Bedi, govt monitoring officer. 
04:15 pm: Tamil Nadu Chief Minister K. Palaniswami has said that his government is taking all steps to close the Sterlite factory at Thoothukudi after 13 people were killed in protests against it. Palaniswami told the media that the AIADMK government is taking the legal route to ensure that the Sterlite Copper Smelter plant was shut down. 
03:59 pm: 65 people have been arrested and remanded for indulging in violence during Sterlite Protests in Thoothukudi. Another 68 people have been arrested and will be produced in front of the magistrate for causing damage to public property and indulging in violence: Sandeep Nanduri, Collector 
03:55 pm: Supreme Court lawyer G.S. Mani, has filed a writ petition the Court seeking registration of FIR & investigation by the CBI against Thoothukudi Collector, Superintendent of Police & other police officials.
03:54 pm: 
03:50 pm: A meeting is being held at the Collector's Office in #Thoothukudi, which is being chaired by govt monitoring officers, Davidhar & Gagandeep Singh Bedi.Other officials are also present in the meeting.The meeting is being held to discuss on how normalcy can be brought in the region
03:45 pm: The TN Govt has been unable to give answers to #TuticorinMassacre. We will ensure the protestors' and peoples' voices from Tuticorin are heard in Chennai. Our fight against this #IncompetentEPS Govt will NOT stop till the resignations of the CM and DGP: MK Stalin
01:40 pm: "I'm deeply pained the loss of lives during the agitation in Tuticorin in Tamil Nadu. The Home ministry has taken cognisance of the incident and sought a report from the state government," says Home Minister Rajnath Singh.
01:30 pm: If someone is attacked, the natural course would be to defend and safeguard themselves. This is what has been done by the police in response, says CM Palaniswami.
01:12 pm: The entire episode which happened was primarily because of certain political parties, NGOs and anti-social elements, who took protesters to a wrong path: Tamil Nadu CM E Palaniswami.
12:30 pm: My first priority is to bring back normalcy. As far as the violence, the shooting and who gave the orders for the shooting is concerned, an inquiry will be done by a judge appointed by the Tamil Nadu govt, says Sandeep Nanduri, Thoothukudi District Collector. 
12:25 pm: DMK party workers clash with police outside Tamil Nadu secretariat in Chennai. The party workers were protesting against police firing Thoothukudi in which 13 people have been killed so far. 
10:15 am: Tamil Nadu Pollution Control Board has directed District Collector of Thoothukoti to disconnect power supply to Sterlite Copper's smelter. Board found the unit was 'carrying out activities to resume production' despite being told not to do so until its licence to operate is renewed.
8:45 am: Death toll in Tuesday, May 22, police firing during anti-Sterlite protests in Tamil Nadu's Thoothukudi touches 13. Over 70 injured in the violence still in hospital.
8:50 am: Internet services suspended in Tamil Nadu's Thoothukudi  to prevent rumour mongering as tension prevails in the region.
After Tuesday's violence in which 11 people were killed in police firing, Tamil Nadu's Tuticorin town was on the boil again on Wednesday, with a man shot dead in police firing following fresh clashes between security personnel and locals demanding closure of a copper factory over pollution concerns.
The Union Home Ministry has sought a report from the Tamil Nadu government on the circumstances leading to police firing on protesters demanding the closure of Sterlite Copper plant, which they claim had polluted ground water in the area.
Watch: Tuticorin on the boil after police firing