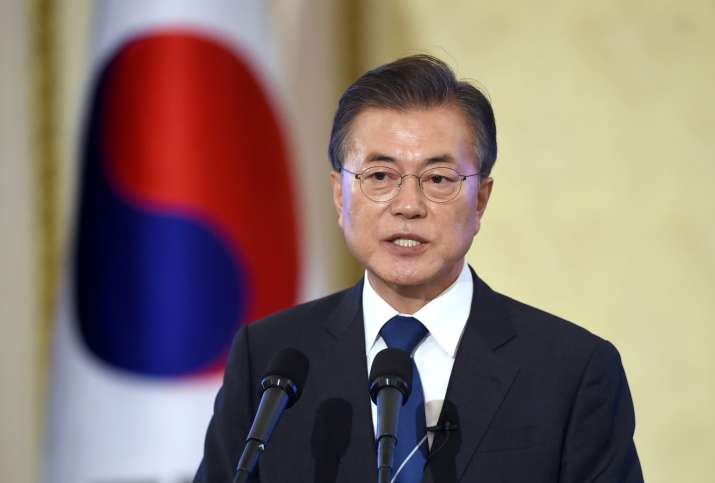 South Korean President Moon Jae-in will arrive in New Delhi on Sunday for his first-ever state visit to India. The South Korean leader will be accompanied by senior members of his cabinet, officials as well as industry captains. First Lady Kim Jung-sook will also be accompanying the President.
On Monday, Moon will attend India-Korea Business Forum followed by a trip to Gandhi Smriti with Prime Minister Narendra Modi. The two world leaders will later visit Samsung's plant in Noida. 
Moon will be accorded with ceremonial reception at the Rashtrapati Bhawan on July 10. Prime Minister Modi will then hold official talks with the South Korean President in Hyderabad House, which will be followed by a lunch.
The two leaders will also address the India-South Korea CEOs Roundtable. Some agreements are also expected to be signed. In the evening, Moon will meet the President Ram Nath Kovind, who will also host a banquet for the visiting dignitary and his delegation at the Rashtrapati Bhawan.
In the morning of July 11, Moon will depart from New Delhi.
Business push:
Moon will be accompanied by some 100 business people, including Samsung Electronics Vice Chairman Lee Jae-yong. Samsung has invested 49.15 billion rupees ($713 million) in the project, which adds capacity to the company's Noida plant, which makes smartphones, refrigerators and flat-panel televisions.
Hanwha Defense Systems Chief Executive Lee Sung-soo is also seeking to play a key role in the tour as South Korea aggressively seeks to export its arms to India. 
The recent trade tariff war between the United States and China has cautioned South Korea. In the current environment, export-driven South Korea is seeking new markets to cut reliance on its two biggest trade partners. China was the biggest export destination of South Korea for the first five months this year, accounting for 26.5 per cent of exports, followed by the US which had 11.4 per cent, according to data from the Korea International Trade Association.
For Seoul, going beyond China is also important because Beijing can suddenly turn against South Korean businesses. Companies suffered setbacks in China after Beijing's angry reaction to South Korea's installation of the Terminal High Altitude Area Defense anti-missile system, known as THAAD, in 2017.
Since India is the world's largest importer of arms in the world, the South Korean companies would like to expand their South Asian footprints, starting from New Delhi. 
First Lady Kim Jung-sook and Indian students watched the @aamir_khan-starring film Dangal together! pic.twitter.com/r1YLgbYKqd

— The Office of President Moon Jae-in (@TheBlueHouseENG) July 4, 2018