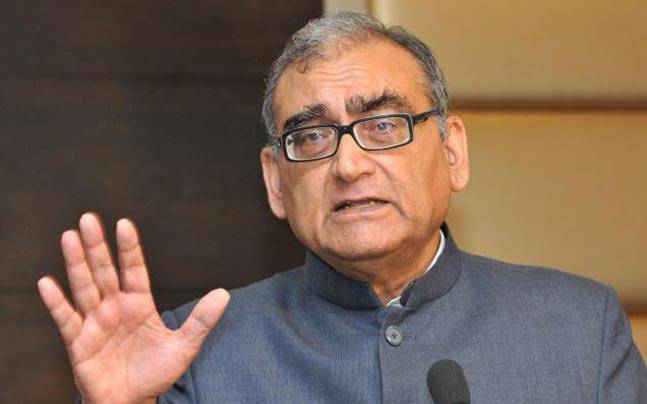 Justice Markandey Katju, summoned by the Supreme Court to explain his comments on the judgement in the Soumya rape-murder case, has said that he would be happy to do so but wanted the apex court to consider whether Article 124(7) of the Constitution barred him from appearing before it. 
"I would be delighted to appear and discuss the matter in open court, but would only like the judges to consider whether, being a former Supreme Court judge, I am debarred from appearing by Article 124(7) of the Constitution. If the judges hold that it does not debar me, I would be happy to appear and place my views," the former Supreme Court judge said in a Facebook post. 
The Supreme Court had two days ago summoned Katju to appear in person before it to point out the "fundamental flaws", as claimed by him in the sensational Soumya rape case. 
Article 124 deals with the establishment and constitution of the Supreme Court and its clause 7 says "No person who has held office as a Judge of the Supreme Court shall plead or act in any court or before any authority within the territory of India". 
In his latest post, Katju also said he was preparing his detailed response which would also be uploaded on his Facebook page. 
"I have yet to receive the notice from the Supreme Court in the Soumya case, though I have been informally informed about it by the advocate on record of the Kerala Govt.," the former judge added. 
A Thrissur trial court had awarded Govindachamy the death sentence for raping 23-year-old Soumya on February 1, 2011, after pushing her out of a running train in Kerala. 
Soumya, an employee of a Kochi shopping mall, was allegedly pushed off from the slow-moving train, carried to a wooded area and subsequently raped. She succumbed to injuries at the Government Medical College Hospital, Thrissur, on February 6, 2011.
The death sentence was confirmed by the High Court. The apex court had commuted to life the death penalty awarded to the convict. 
In an earlier Facebook post, Katju had criticised the apex court saying it had grievously erred by not holding the convict guilty of murder and its judgement needed to be reviewed. 
"It is regrettable that the Court has not read section 300 carefully. The judgment needs to be reviewed in an open court hearing," Katju had said in his post. 
An apex court bench of Justices Ranjan Gogoi and U U Lalit had on October 17 said, "We issue notice to Justice Markandey Katju, former judge of this Court and request him to appear in Court in person and participate in the proceedings on November 11...as to whether the judgment and order dated September 15 passed by this Bench...suffers from any fundamental flaw so as to require exercise of the review jurisdiction."
(With PTI inputs)