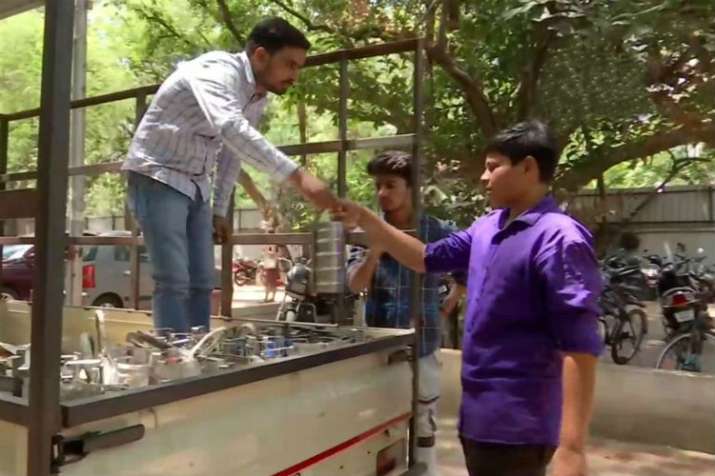 Aspiring students -- belonging from drought-affected regions, migrated for higher studies to Pune -- are finding Students Helping Hand Organisation and part-time jobs as their biggest financial aids. 
Many students from the 115 drought-prone districts of Maharashtra, studying in Pune to prepare for government jobs' tests or higher studies, do not go to their homes even during their holidays. They work for the whole year to finance their own education and even help their families. 
Vinayak Renewal, an MA student who works part-time at a clothing shop says, "I don't want my father to die due to debts. So I bear educational & renting expenses from my own earnings." 
Going to their home also increases their financial burden. 
Drought has always been a severe problem for many of the regions in Maharashtra. Farmer suicide cases have always brought these regions into the news every year.
Nivrati Tiwode belongs from Nanded district and has been living in Pune for four years. She works in a catering company during weekends. "I do not get money from home and hence work with a catering company during weekends. I cannot go even during vacations because I have to work during that time to earn money for fees for next year," she said. 
The students like Vinayak and Nivrati told ANI that Students Helping Hand Organisation provides a two-time meal a day for free to students from drought-affected regions. 
Organisation President Kuldeep Ambedkar says, "2,000 students filed applications seeking help. But due to financial constraints, we're able to provide food to 600"
This year, drought has already hit a few regions of Maharashtra after which the state's Chief Minister Devendra Fadnavis had written to the Election Commission (EC) seeking relaxation in Model Code of Conduct (MCC) to carry out drought relief measures in the state. 
(With inputs from ANI)