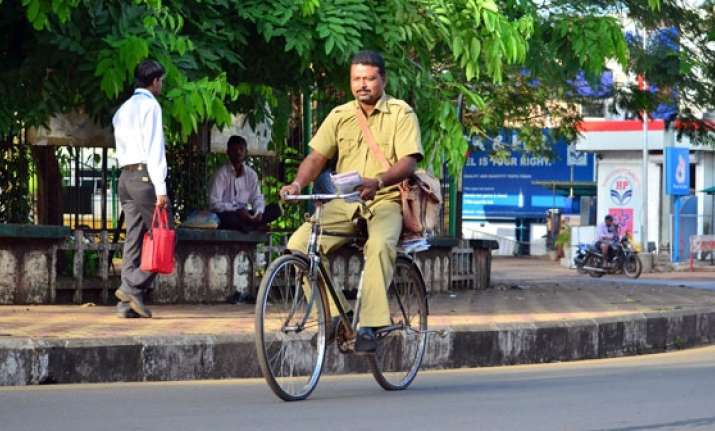 New Delhi: The good old dakiya is in the process of getting a corporate makeover. With the Indian postal service now set to capitalise on its vast network, the Dak Sevaks, as they are known now, will be shedding their old image. As a result, thousands of postmen and women will now adopt a new avatar to keep up with the competition. 
The development comes especially in wake of the government's nod to India Post to set up its own payments bank. As part of its attempt to make banking available in the boondocks of India's villages, postmen will now be armed with smartphones and iPads to help them facilitate transactions at the doorstep, Union minister Ravishankar Prasad said while announcing the move.
"They want to be really competitive. The logistics sector in India has undergone a sea change with the boom in e-commerce. Several new firms are doing brisk business. The uniform redesign is just part of a bigger exercise India Post is undertaking to take on these new players" said a source.
As part of the fresh makeover, the postmen's new clothes are to be made using comfortable fabric so as to give them a  'luxurious' feel and breathability, said the source.
After considering different colours, the teal (deep blue-green), may be the final choice. The poly-vastra, a blended khadi fabric of cotton and polyester, was decided for the material choice, but the postmen were not too keen because of it's high maintenance.
"Postmen have to get the uniform stitched from their allowance. So durability is an issue. It has to last," the official said. 
Postwomen can chose between a saree or salwar-kameez in a wide range of choices.
By 2020, the Indian logistics industry is expected to grow at a compound annual rate of 12 per cent and is fixed at more than over Rs 20 lakh crores, according to market researcher Novonous.
With the coming of such a plan, e-commerce companies including Flipkart and Snapdeal are also making schemes to invest in the sector to cut down on delivery times.
Flipkart has also declared that over the next four years it will invest around Rs 13, 392 crore in logistics industry.