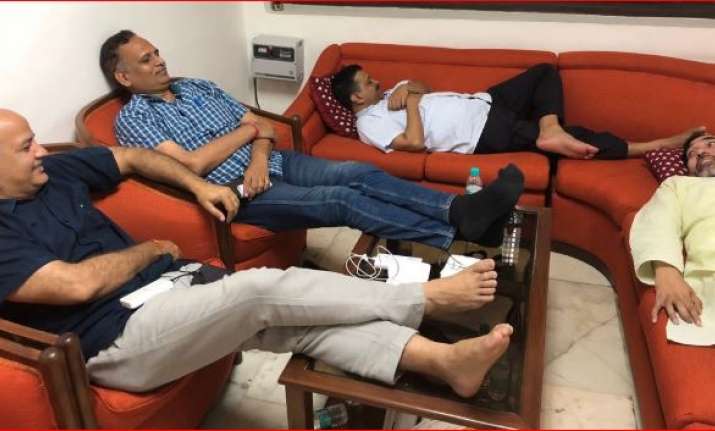 Delhi's Chief Minister Arvind Kejriwal is once again sitting on a dharna (sit-in). However, the sit-in this time is not on the roads, but inside the waiting room of Lieutenant Governor Anil Baijal.
CM Arvind Kejriwal, deputy chief minister Manish Sisodia and two other ministers of Delhi government, Satyendra Jain and Gopal Rai, are staging dharna inside the L-G's waiting room since Monday.
They slept on sofa of Baijal's waiting room on Monday night. They are also sharing the photographs of their dharna on social media.
Meanwhile, Delhi Health Minister Satyendra Jain on Tuesday began an indefinite hunger strike to press for the demands made by Kejriwal and his ministers.
Kejriwal has alleged that the L-G is not allowing his government to work. According to the Delhi chief minister, the L-G is not approving files sent to him. He also claims that the IAS officers of Delhi  were sent on strike under a design.
The AAP government and the bureaucracy have been at loggerheads since the alleged assault on the chief secretary by AAP MLAs at Kejriwal's residence on the intervening night of February 19-20.
Kejriwal now wants these officers to call off their strike. He is also demanding action against these officers. He also wants the L-G to give green signal to his government's ration scheme.
What is interesting is that the Delhi CM and his ministers are sitting on dharna inside L-G's waiting room where others can't make entry and that's the reason why they are uploading their photographs on social media on their own.
"Satyender Jain starts indefinite fast. Jain began his fast at the the L-G's office at 11 am," Arvind Kejriwal tweeted in the morning.
Reacting to Kejriwal's sit-in, the L-G office has said that it was one more "dharna without reason". 
On Monday evening, a statement issued by the L-G's office said that the L-G was "threatened" to summon officers and issue directions to them to end their "strike" immediately.
Watch: Kejriwal's dharna continues at L-G's waiting room