Follow us on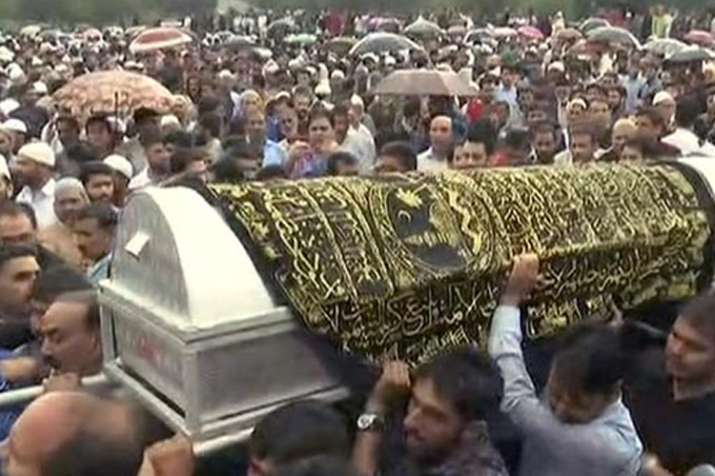 Kashmiri separatist group Hurriyat Conference's role in the broad daylight murder of veteran journalist Shujaat Bukhari is under scanner as reports reveal that the 'Rising Kashmir' newspaper's editor-in-chief was asked to explain his recent Dubai visit despite being asked not to do so.
According to reports, Bukhari was advised by the Hurriyat not to attend a conference in Dubai. However, he went ahead with his plans which infuriated the Hurriyat. Bukhari was even summoned by the Hurriyat to explain why he defied its orders.
Intelligence inputs have also suggested that Pakistan's notorious Inter-Services Intelligence (ISI) could have roped in Lashkar-e-Taiba terrorists to kill Shujaat Bukhari. 
The Srinagar Police has sought help of the general public to identify the suspects involved in Thursday's attack  that killed Bukhari and his two private security guards. Cops have released photographs of the suspect captured in the CCTV moments after the incident.
Crowd of tearful mourners as Bukhari laid to rest 
Despite incessant rains, thousands of friends and admirers joined the funeral procession of Shujaat Bukhari, who was laid to rest in his ancestral village Kreeri on Friday.
Day after its editor-in-chief Shujaat Bukhari killed, 'Rising Kashmir' hits stands with a strong message for 'coward' attackers
 
Braving heavy rain, crowds of tearful mourners from across the Valley followed the cortege through the streets of this sleepy hamlet in Baramulla district. 
Amongst those who took part in the last rites of the journalist and visited his ancestral home to condole with the family were opposition leader Omar Abdullah and ministers from the PDP and the BJP. It was probably the biggest funeral procession the village had seen, locals said.
WATCH: Hurriyat hand in Shujaat Bukhari's murder ?