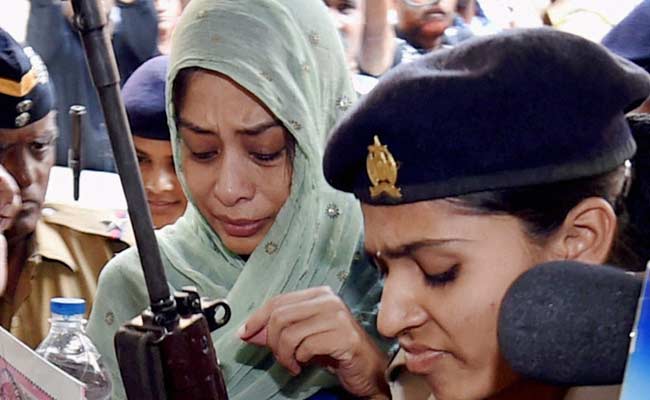 A special CBI court in Mumbai on Tuesday framed charges against prime accused Indrani Mukerjea, media baron Peter Mukerjea and Indrani's ex-husband Sanjeev Khanna for the murder of Sheena Bora.
Indrani's driver Shyamvar Rai, the fourth accused, had turned approver for the CBI earlier. He has reportedly given chilling details of how the crime was committed to the Central Bureau of Investigation (CBI), which took over the probe from Mumbai Police last year.
Indrani, Khanna and Rai have been accused of strangling 24-year-old Sheena — Indrani's daughter from a previous relationship whom she passed off as her sister — in a car on April 24, 2012. Her burnt body was dumped in a bag in the forests in Raigad district near Mumbai.
All three accused have pleaded not guilty of the crime and have said they are ready to face the trial in the case that is likely to begin from February 1.
The former Star India CEO and media baron Peter Mukherjea is also an accused in the murder as he apparently knew the plot to kill Sheena but kept silent.
Speaking to media, Special Public Prosecutor Ujjwal Nikam said, "Minimum punishment in the case is life imprisonment. The next procedure will be for the prosecution to prove the charges."
There had been two charge sheets filed in the case so far. According to the first charge sheet filed on November 19, 2015, the CBI had named Indrani, Khanna, and Rai as accused in the case. The trio was arrested in August last year after Rai spilled the beans while he was being interrogated in a case pertaining to illegal possession of arms.
Accused have been booked under sections 120B (criminal conspiracy), 364 (kidnapping) 302 (murder), 328 (causing hurt), 201 (evidence destruction), 203( giving false information regarding an offense) 307 (attempt to murder), 420( cheating), 468,( forgery of documents), 471( using a genuine a forged document)
The second charge sheet was filed on February 16, 2016, against Peter for his alleged role in the murder plot, who was arrested on November 19 last year.
Peter was the chief executive officer of Star India network from 1999-2007. Peter and Indrani got married in 2002. After leaving Star in 2007, Indrani established news channel INX News, and Peter managed its two channels, 9X and 9XM. Peter and Indrani exited the company in 2009.