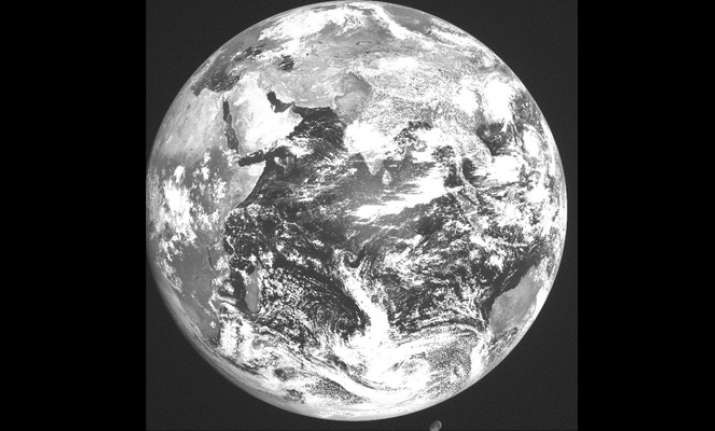 The Indian Space Research organisation ​(ISRO) on Thursday released the first image taken by INSAT-3DR, an advanced weather satellite launched last week.
INSAT-3DR Imager captured the image of the Earth disk with the Moon in background.
ISRO took to microblogging website Twitter to share the first image of planet Earth captured from its recently launched advanced weather satellite, after which the picture was shared widely. 
First Images from INSAT-3DR Imagerhttps://t.co/JmTijbsejf pic.twitter.com/JPp8qC5dEs

— ISRO (@isro) September 15, 2016
INSAT-3DR, which has been configured with an imaging system and an atmospheric sounder, was launched on September 8, 2016 using its GSLV-F05 from the spaceport of Sriharikota in Andhra Pradesh.
The rocket, GSLV-F05 has injected the satellite in the geostationary transfer orbit. It took another two days for the satellite to reach its final geostationary orbit after scientists fired its onboard thrusters, ISRO reported. 
This multi-spectral INSAT-3DR imager can capture the images of the Earth disk from an altitude of 36,000km once in every 26 minutes. Images can be captured in six wavelength bands. 
It can also provide information on various parameters like radiation, precipitation, sea surface temperature, snow cover, and cloud motion winds.
ISRO has also released a video of the GSLV-F05 launch captured by a camera onboard the rocket.
Here is the link to the video: http://www.isro.gov.in/gslv-f05-insat-3dr/video-onboard-camera-of-gslv-f05