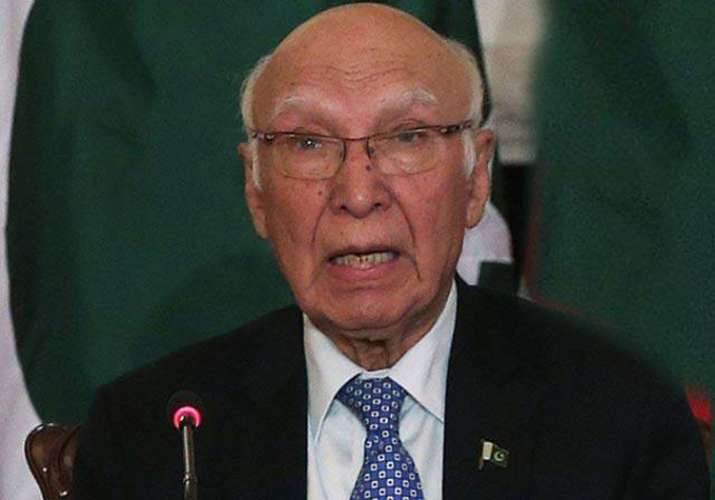 Even with the tension between India and Pakistan running high, Islamabad has conveyed to New Delhi that Prime Minister Nawaz Sharif's Advisor on Foreign Affairs Sartaj Aziz will be attending the Heart of Asia conference in Amritsar on December 3 and 4. 
"We have received an official confirmation from Pakistan that Aziz would be attending the HoA conference on Afghanistan," External Affairs Ministry Spokesperson Vikas Swarup said today. 
This would be the first high-level visit from Pakistan after the announcement of Comprehensive Bilateral Dialogue (CBD) in December last year which never took off in the wake of terror strikes, including the Pathankot airbase attack by Pakistan-based terror groups in January this year, and subsequent incidents which led to intense tension between the two countries. 
Prime Minister Narendra Modi and Afghan President Ashraf Ghani will also address the conference, which will see participation of over 40 countries. 
Given that Aziz, while announcing his visit, had asserted that it could be a "good opportunity" to "defuse the tension" between India and Pakistan, it is in all probability that a bilateral meeting may be on the cards. However, there is no official confirmation in this regard. 
While Indian officials are tight-lipped whether there would be a bilateral on the sidelines of the multilateral conference, it is understood that Pakistan is of the opinion that India should initiate such a proposal. 
It also remains to be seen whether Aziz's counterpart Sushma Swaraj will be travelling to Amritsar to attend the conference given that she is not well. That may result in either one of her junior ministers or some other cabinet ministers attending the conference. 
In December last year, the meeting of the HoA process was hosted by Pakistan and Swaraj had attended it after which she had bilateral talks with Aziz and announced resumption of CBD. 
India had recently boycotted the SAARC summit which was scheduled to be held in Islamabad. Citing continuous cross-border terrorism from Pakistan following the Uri attack, India had said that "in the present circumstances" it was unable to take part in the SAARC summit. 
Aziz was quoted as saying that "Unlike India, that had sabotaged SAARC summit in Pakistan by pulling out, Pakistan will respond by participating in the Heart of Asia (conference) being held in India. It's a good opportunity to defuse the tension." 
Meanwhile, at the Line of Control, Indian forces today launched a massive counter attack to avenge the killing of three of its soldiers by Pakistani troops yesterday.  
Heavy shelling is going on in Nowshera, BG and Krishna Ghati sectors since 8.30 am. 
The firing is underway at the entire Line of Control including areas at Poonch, Rajouri, Kel and Machil. 
Indian soldiers were killed in Machil sector of the frontier Kupwara district on Tuesday.  
India has lodged a strong protest with Pakistan against the killing and mutilation when the foreign office in Islamabad summoned deputy high commissioner JP Singh to condemn 'unprovoked ceasefire violations'.  
This was the second such incident in two months of an Indian soldier's body being mutilated. Just three weeks ago, Sepoy Mandeep Singh was beheaded not far from the spot.
(With PTI inputs)