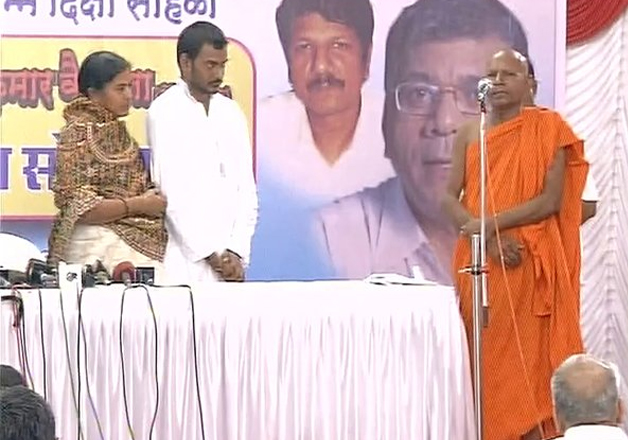 Mumbai: Mother and brother of dalit scholar Rohith Vemula, who committed suicide at Hyderabad Central University in January sparking strong protests across the country, today embraced Buddhism on the occasion of Dr BR Ambedkar's 125th birth anniversary.
Rohith's mother Radhika and brother Naga Chaitanya Vemula, also known as Raja Vemula, were given 'deeksha' at a function in Dadar here in the presence of Prakash Ambedkar, the grandson of Dr BR Ambedkar.
At the venue of the deeksha ceremony, the mother-son duo paid tributes to Dr Ambedkar and bowed before his portrait.
Ambedkar, Dalit icon and architect of the Indian Constitution, converted to Buddhism at a grand ceremony in Nagpur in 1956 as he was strongly opposed to the caste system in Hindusim.
Raja said that Rohith Vemula was a Buddhist at heart though he did not convert formally. "My brother Rohith took his own life because he was discriminated against as he was a Dalit. We performed his last rites according to Buddhist traditions, honouring his love for Buddhism. Rohith used to talk of Buddhism a lot. He had also written a letter to the VC about how Dalits are discriminated against in the campus," he said.
"We are against the caste system in Hinduism and have, therefore, decided to embrace Buddhism which does not have such an oppressive system of castes," he added.
Rohith, 27, had killed himself in his hostel room on January 17 after alleging discrimination on caste lines by the university administration.
Prakash Ambedkar said Buddhist monks gave 'deeksha' to Rohith's mother and brother at a function on the sidelines of a programme marking the birth anniversary of Dr Ambedkar.
"The function to covert the duo to Buddhism was organised after Radhika Vemula approached me and conveyed their wish to embrace Buddhism when I visited Hyderabad recently," he said.
Rohith's elder sister, who is married, has not converted to Buddhism.
With PTI Inputs