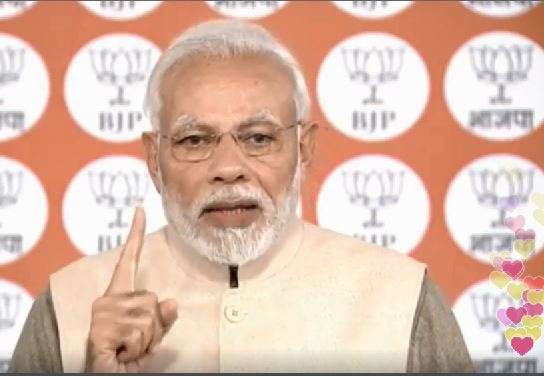 PM Modi on Saturday accused the Congress of paying only "lip service" to farmers while ignoring their welfare.
Video-interacting with booth workers from Tamil Nadu, Modi also hit out at the Congress for treating national security and defence sector as "a punching bag or a funding source".
"If you ask me, what is among the most satisfying things of being in government, I would say it is to work for our hardworking farmers. After all, it is the farmers who are our 'annadatas' (food providers). 
"We are not like the Congress, which will only pay lip service to farmers but ignore their well-being. Wherever the Congress is in power, farmers suffer," said Modi interacting with booth workers from Kanyakumari, Nilgiris, Coimbatore, Namakkal and Salem. 
"Four years ago, farmers asked for urea, but all they got was stick. Farmers asked for higher minimum support prices (MSP), but all they got was empty promises. Farmers asked for increased incomes, but all they got was insensitivity," alleged Modi.
In the run-up to next year's Lok Sabha polls, Prime Minister Narendra Modi  told BJP workers in Tamil Nadu it was their duty to create awareness about the Centre's welfare schemes and hold meetings as well so that benefits of such initiatives reached more people.  "The BJP believes in sabka saath sabka vikas," he said. 
"Imagine the kind of contribution we can make if we get a chance to serve people of Tamil Nadu," he said.  "It is the duty of karyakartas to create awareness on these (central government schemes) and also enrol more people in these schemes and make them partners in the development journey," the prime minister added.
No government at the Centre has done so much for Tamil Nadu as the BJP has done, he said.
"From health to housing and from skill to sanitation, lives of people are being improved across all sectors," Modi said.
Citing examples, the prime minister said more than 70,000 people from Tamil Nadu have received free treatment under Ayushman Bharat, a National Health Protection scheme.  In less than three months more than 47 lakh toilets were constructed in Tamil Nadu and more than 12,000 villages were declared open defecation-free in four years, he said.  More than 3,000 km of rural roads under the Pradhan Mantri Gram Sadak Yojana were constructed in Tamil Nadu in the last four years, Modi said.
He said over four lakh youths have got skill training in the last four years, while lakhs of people have benefited from the loan schemes.
In the last four years, over four lakh families have got a "pucca ghar" (home), the prime minister said.  He also said under the 'Sagarmala' programme, three major port development works were awarded to Tamil Nadu.  Modi, while beginning his address, said he was 'bowing' to the rich culture of Tamil Nadu.
Describing Tamil as one of the most beautiful languages, he said Tamil culture and language were among the oldest in the history of mankind.