Follow us on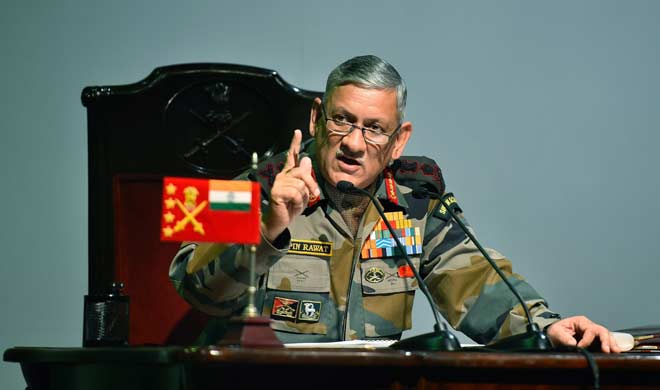 Infrastructure development by China's People's Liberation Army (PLA) in the Doklam Plateau is temporary in nature, Chief of Army Staff General Bipin Rawat said on Wednesday during an interactive session at the Raisina Dialogue in New Delhi. 
"As far as Doklam is concerned PLA soldiers are there in a part of the area, although not in numbers that we saw them in initially. They have carried out some infrastructure development, which is mostly temporary in nature," General Rawat said. 
His remarks come in wake of recent media reports about China apparently taking control of the northern side of the Doklam Plateau. According to media reports, China has taken some infrastructure development activities in the disputed region.
However, General Rawat said Indian forces will face the PLA troops if they come again in Doklam, ANI reported. 
"While troops (PLA) may have returned and infrastructure remains, it is anybody's guess whether they would come back there, or is it because of the winters that they could not take their equipment. But we are also there, so in case they come, we will face them," he said.
The army chief also advocated that countries which support terrorism need to be "tackled". He said that terrorism is here to stay unless the world joins hands to end it.
Gen Rawat stressed on cutting terrorism funding and raised concerns over nuclear, biological and chemical weapons falling into the hands of terrorists. He advocated curbs on Internet to control terror propaganda.
The Army chief said terror cannot be accepted as a new form of war and urged the global community to tackle it head on.
Without naming Pakistan which India accuses of supporting terror groups in Jammu and Kashmir, he said: "Nation states that support terror to achieve their ends need to be tackled first.
"Terrorism is here to stay, unless the entire international community joins hands, comes together and fights this menace. Only then we can see peace... Terrorism cannot be a new form of warfare.
"This is what nations believe, this is going to be a new form of warfare. It has been seen that nations which spread terrorism invariably become victims of terrorist activities. If they want a safe home, it is better to stop this and let the global community work together."
He, however, added that no country will fight a war for another.
"...You have to do your own job, no nation is coming to your help. International community support is required to support your action.
"A nation suffering from terrorist activity has to do its own job, take its own action and deal with the terrorists on its own," he said.
Gen Rawat said that after identifying countries that support terror, the next step must be to address the source of funding.
"...where does the money come from. After all terror organisations have huge sums of money."
Gen Rawat pointed out that drugs trade was a major source of such funding. He suggested that all weapon manufacturers should mark each weapon they sell.
"Whatever weapons are found with the terrorists, at least the origin of the weapon can be traced. As of now, very sophisticated weapons are landing in the hands of terrorists but it is difficult to find the source of that weapon," Gen Rawat said.
"If that can happen, funding can stop, and source of weapon can be identified. I think that to an extent would put a check on the activities of the terrorists."
According to him, the biggest threat was that terrorists may get hold of chemical, biological or nuclear weapons. This, he said, "can spell disaster for humanity".
"While weapons is only one issue, the bigger issue is keeping a check on biological and chemical weapons. How do we keep a check on that? This can only happen if countries unite."
Stating that all terror groups had a militant and a political front, the Army chief called for targeting both.
He said even when a militant outfit was curbed, its political front continued to unleash propaganda.
He also called for putting "some checks and curbs" on the "population, Internet and social media and social communication which the terrorist organisations resort to".
"I do appreciate that in a democratic country people would not want this kind of restriction to be put on them. But I think we have to take a call whether we want a safe and secure environment or we are willing to accept some kinds of curbs at least temporarily so that the menace of terrorism can be dealt with in a holistic manner."