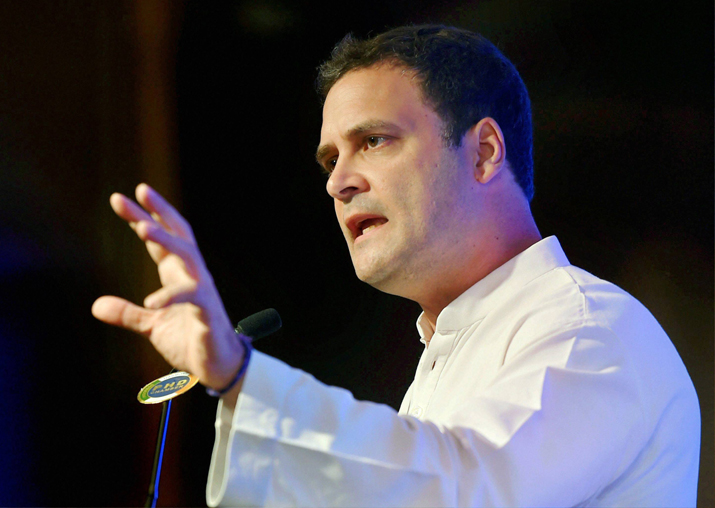 Congress vice president Rahul Gandhi
today received applause  for cleverly fielding two questions fired at him during the 112th annual session and PHD Annual Awards for Excellence 2017 here.
Responding to a question asked by Indian boxer Vijender Singh, Rahul revealed that he is a black belt in Aikido -- a modern Japanese martial art. The Congress leader even mentioned that he plays a lot of sports including swimming and is even a black belt in Aikido.
"I do exercise, swimming, am a black belt in aikido. But I don't talk about it publicly. I do sports one hour every day. Though I admit I haven't done so in the past three-four months," he said.
Immediately, Singh asked Rahul to post videos of himself practicing Aikido and other acts so that they can inspire the youth.
"Fine...I will...," Rahul said.
Further, the Olympics medallist joked that MPs and MLAs are 'expert' at boxing and wrestling inside Parliament and state Assembly.
Here's is all you need to know about Aikido:
1. Aikido means a "path of unifying life and spirit". It is one of the forms of Japanese Martial Art. It evolved in the 20th century and spread to the world after the World War II. Because of its unique style, Aikido is gaining popularity day by day.
2. Aikido is a representation of centuries of Japanese martial knowledge. Today, it is one of the most widely practised budo, or martial way, in the world. 
3. The sport was founded by Morihei Ueshiba early in the 20th century following his own extensive study of various armed and unarmed martial systems.
4. Aikido is practised as more than simply a method of fighting. Influenced by the disciplines inherited from India and China, Japanese martial arts focuses on the development of internal, as well as physical, integrity.
5. Traditionally, Aikido is non-competitive and the players work in cooperation with a partner. In this sport, you do not win by besting an opponent, but through demonstrating an understanding of basic exercises and techniques, which become more demanding or difficult as rank increases.
6. Aikido is more of a defensive martial art. It makes use of body movement (tai sabaki) to blend with uke. The techniques include irimi (entering), turning movements (that redirect the opponent's attack momentum), various types of throws and joint locks).