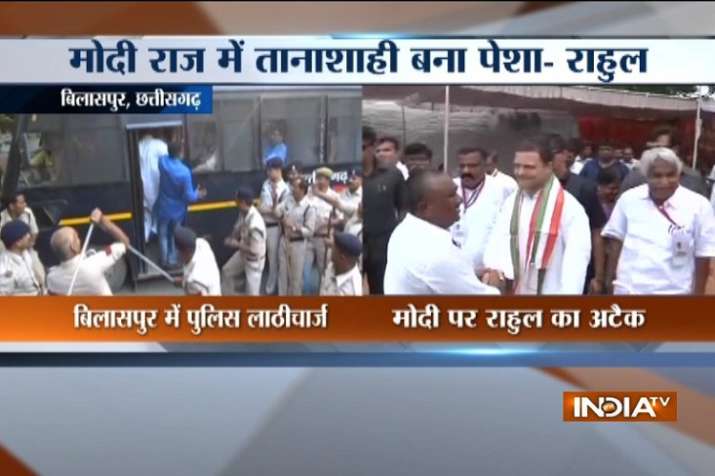 "Narendra Modi ki hukumat me tanashahi ek pesha ban gaya hai (Dictatorship has become a profession under Modi rule)," Rahul Gandhi said on Wednesday while expressing anguish over Congress workers being lathicharged in Bilaspur, Chhattisgarh.
Rahul Gandhi took to Twitter to express anger over the incident and slammed both PM Modi and Chhattisgarh CM Raman Singh for what he termed as 'political atrocity'.
"Bilaspur mein Raman Singh ki sarkar dwara Congress karyakartao ke maulik adhikaron par bujdili se kiye gaye iss prahar ko wahan ki junta siyasi julm ke roop mein yaad rakhegi (Citizens would remember this attack on Congress workers' fundamental rights by the Raman Singh government in Bilaspur as an act of political atrocity)," Rahul Gandhi said while sharing  a video of the incident.
नरेंद्र मोदी की हुकूमत में तानाशाही एक पेशा बन गया है| बिलासपुर में रमन सिंह की सरकार द्वारा कांग्रेस कार्यकर्ताओं के मौलिक अधिकारों पर बुज़दिली से किए गए इस प्रहार को वहाँ की जनता सियासी ज़ुल्म के रूप में याद रखेगी| pic.twitter.com/to7LDkXzEt

— Rahul Gandhi (@RahulGandhi) September 19, 2018
At least seven Congress workers were injured on Tuesday in lathi charge by police in Bilaspur after the party workers threw garbage inside Urban Administration Minister Amar Agrawal's house. Over 50 Congress workers were also detained.
Congress leaders said the protest was against the minister's recent statement where he allegedly referred to the opposition party as 'kachra' (garbage).
WATCH: Rahul Gandhi slams PM Modi over lathicharge on Congress workers in Chhattisgarh