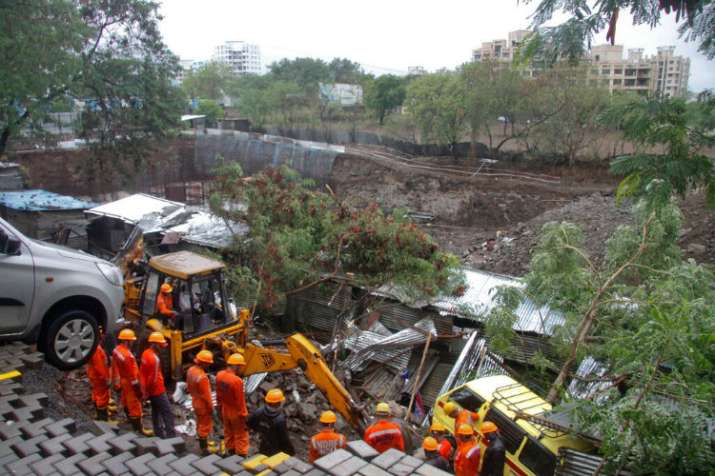 Seventeen people were killed as a compound wall of a residential complex collapsed in early hours of Saturday. Fire Brigade and National Disaster Relief Force (NDRF) is engaged in the rescue effort. The death toll is feared to rise. It is reported that the rescuers have been able to save three persons from under the debris.
The mishap took place in Bada Talab Masjid locality in Kondhwa in Pune. The area received heavy rains on Friday.
Most of the victims were from Bihar and West Bengal. The construction company is on the radar of the authorities.
The wall collapsed on shanties erected for laborers working at a construction site nearby. Three of the injured have been shifted to a hospital nearby.
India TV spoke with Vimal Sharma, a construction worker who was witness to the tragedy.
"I heard a loud noise at 1:30 am at night. I felt as if an entire building is falling on me. I was buried under the debris upto my neck. I shouted and shouted. I was pulled out by some people after some time"
According to him 2 women and 4 children are among those dead.
Pune Commissioner of Police K Venkatesham said that the police are investigating the incident and action will be taken against those who are found responsible for the wall collapse.
Pune Mayor, Mukta Tilak said to the media that the incident will have an investigation. Meanwhile, the construction work will be halted. 
Mayor of Pune, Mukta Tilak on wall collapse in Kondhwa: An investigation will be conducted into the incident. We are giving a 'work stop' order so that no work can be continued at the construction site here. #Maharashtra pic.twitter.com/LzrODXdkjt

— ANI (@ANI) June 29, 2019
Maharashtra Chief Minister Devendra Fadnavis has ordered an inquiry into the incident.
The rescue operation of NDRF is underway and the team has recovered the dead bodies.