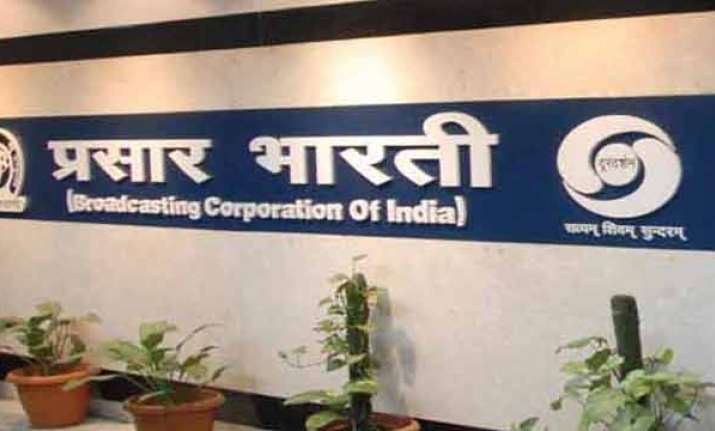 Prasar Bharati CEO S S Vempati on Sunday night clarified that Rs 208 crore released by the public broadcaster towards staff salaries on February 28, 2018 were from its reserves.
Earlier in the day, he had tweeted: "Noticed reports in sections of media on non-disbursal of salaries to DD & AIR staff. Rs 208 cr towards salaries were released on the 28th Feb 2018. Attempts to create panic malafide. PB (Prasar Bharati) has so far received Rs 1989 crores from MIB (Ministry of Information and Broadcasting) as grants-in-aid for salaries during FY2017-18."
The tweet had not mentioned that the money towards salaries was released from the Prasar Bharati's reserves.
But hours later, he put out another tweet which read: "Rs 208 crores were released by @prasarbharati towards salaries for on 28th February 2018 from IEBR reserves."
To be clear on @PTI_News misquoting my tweet - Rs 208 crores were released by @prasarbharati towards salaries for on 28th February 2018 from IEBR reserves. https://t.co/HPIXEspH3S

— Shashi Shekhar (@shashidigital) March 4, 2018
Vempati's remarks came two days after a news website quoted Prasar Bharati Chairman A Surya Prakash as saying that the public broadcaster had to pay staff salary for January and February out of its contingency funds as the ministry had not released the funds.
The website had claimed that the delay in the release of funds was due to the alleged standoff between the Prasar Bharati and the I&B ministry.
The Congress on Saturday shot seven questions to Information and Broadcasting Minister Smriti Irani for allegedly withholding funds to Prasar Bharti since December.
Party chief spokesman Randeep Singh Surjewala asked why the minister is making Doordarshan and All India Radio employees suffer, withholding their salary for January and February. The party also questioned why her ministry had chosen a private firm over Doordarshan (DD) for the International Film Festival of India in Goa. It also asked why a private firm should be paid Rs 2.92 crore by Prasar Bharti. "Unbridled, unchecked and uncontrolled whims and anger of Information and Broadcasting Minister Ms Smriti Irani is making DD/AIR employees suffer," he said.
Reacting to the news reports, the I&B ministry had issued a statement saying that the Prasar Bharati had not signed an MoU with it as required by autonomous bodies getting grants-in-aid by the government.
The Prasar Bharati is an autonomous body that runs Doordarshan (DD) and All India Radio (AIR) but receives grant from the Information and Broadcasting (I&B) ministry.
(With PTI inputs)