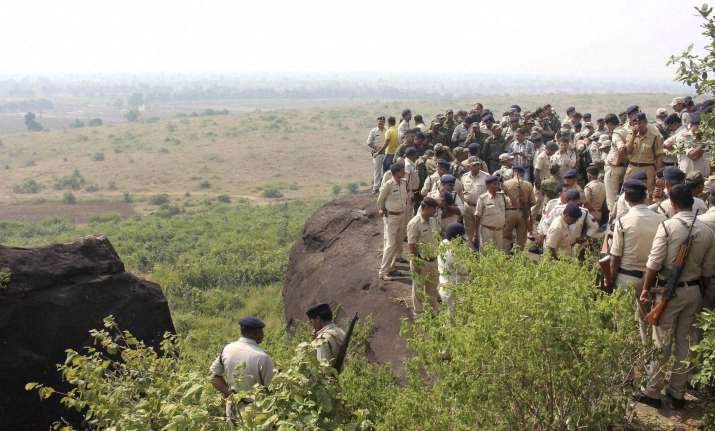 Dismissing criticism over the encounter killing of eight Students Islamic Movement of India (SIMI) activists near Bhopal, Madhya Pradesh Police today said there was heavy exchange of fire in which they the suspected terrorists felled after which four countrymade guns and some sharp- edged weapons were recovered from them. 
"There was heavy firing from the other side (activists) and they were killed in retaliatory fire. Three policemen received injuries from sharp weapons. Police opened 45-46 rounds of fire," Inspector General of Police (IGP) Yogesh Chaudhary told a media briefing after questions were raised over the genuineness of the encounter. 
The 8 activists of the banned SIMI were killed in an encounter hours after they escaped from the high-security Bhopal jail after slitting the throat of a guard and scaling the wall using bedsheets between 2 and 3 in the morning. 
Chaudhary repeatedly maintained that all questions raised over the encounter were a matter of investigation as the series of events over seven hours between their escape and killing were still being probed. 
The slain activists, Chaudhary said, were dangerous criminals who were involved in the killing of two constables in Khandwa and elsewhere in 2008 and 2011. Besides, three of them were involved in an earlier jailbreak in Khandwa in 2013. 
Asked about a video purportedly shot at the encounter site in which a policeman is seen firing at a motionless body, he said, "We have been involved in the action the whole day. We have to look at the video and into its veracity." 
Justifying the police action against the SIMI activists, the IG said these were dangerous criminals who were involved in serious crimes and who had escaped after a hacking a security guard in jail. 
He said the Bhopal police, Special Task Force and CTG were jointly involved in the operation. 
Replying to a question about some accounts that the activists had no weapons, he said there will be investigation according to rules and all these factors will be taken into account. 
Describing the terrain where the encounter took place, Chaudhary said police personnel were attacked by SIMI activists from higher position and there was even a scuffle. 
He, however, maintained no mobile phone was recovered from the slain SIMI activists. 
Chaudhary said how the SIMI terror suspects could lay their hands on weapons after their escape will also be probed. 
"How they got the weapons, did they receive any external help are matters of investigation," he said. 
The activists were identified as -- Amzad, Zakir Hussain Sadiq, Mohammad Salik, Mujeeb Shaikh, Mehbood Guddu, Mohammad Kalid Ahmed, Aqeel and Majid, a police official said.
While in hiding, the SIMI men were allegedly involved in terror activities in several states including Madhya Pradesh, Andhra Pradesh, Telangana, Karnataka, Tamil Nadu, Maharashtra, Uttarakhand and Uttar Pradesh.
Congress and other opposition parties have demanded a judicial probe into the killing and have questioned the veracity of Madhya Pradesh government's claim of 'encounter'.
While Congress and CPI-M sought a judicial probe so people get to know the truth, the BJP questioned Congress for coming in support of Students Islamic Movement of India (SIMI) terrorists and accused it of politicising the incident.
(With PTI inputs)