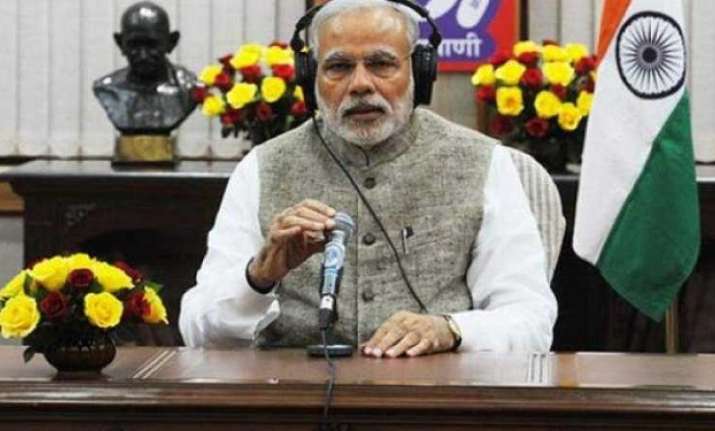 Prime Minister Narendra Modi addressed to the nation on the 53rd episode of his monthly radio-broadcast Mann Ki Baat on Sunday. It was the prime minister's first radio address since the Pulwama terror attack on February 14, which had claimed the lives of more than 40 CRPF jawans. Nearly 40,000 Bharatiya Janata Party (BJP) workers from the Kangra-Chamba parliamentary constituency in Himachal Pradesh will be listening to Prime Minister Narendra Modi's radio address 'Mann ki Baat', the party had said on Friday.
Through his address on the radio, the prime minister aims to connect with the common man on a regular basis and inform them about the initiatives of the government and seek support in nation building and governance. 
In the last edition of Mann Ki Baat, Prime Minister Narendra Modi had hailed the contribution of the Election Commission of India for continuously working towards strengthening the democracy.
He had also urged the youth of the country who have attained the age of 18 to register themselves as voters. The program was broadcast on the entire network of the All India Radio (AIR). 
Here are the HIGHLIGHTS: 
11:29 am: Prime Minister Narendra Modi concludes his address on radio-broadcast Mann Ki Baat
11:28 am: In the coming two months, we will all be busy with the elections. Hence, the next edition of Mann Ki Baat will be aired on the last Sunday in the month of May: PM Narendra Modi
11:27 am: The fact that people not only listen to my program Mann Ki Baat, but also remember it on various occasions, fills me with immense happiness: PM Narendra Modi
11:26 am: This year Shivraatri is falling on a Monday, which holds great significance. I convey by best wishes to all of you for the occasion: PM Narendra Modi
11:25 am: Some days ago I went to Kashi and there I got a chance to spend time with my divyang brothers and sisters: PM Narendra Modi
11:24 am: The time for exams in schools is nearing, the dates for 10th and 12th boards would be announced soon. I convey my best wishes to all students and their parents: PM Narendra Modi
11:23 am: You must have heard about Odisha's Daitari Nayak, who is not nicknamed 'Canal Man of Odisha' for nothing, he chiselled through mountain literally with his hands and carved 3 kilometers long canal in his village, and put to rest forever problem of irrigation and water: PM Narendra Modi
11:22 am: Like every year, this year too, there was a great buzz about Padma award. Today as we head towards a new India, in which we want to honour those who are doing their work at the grass-root level without any care for a reward: PM Narendra Modi 
11:18 am: These are those people who are displayed on the front page of magazines, they fulfill their duties without being in the limelight: PM Narendra Modi 
11:17 am: Today we are heading towards a New India and I am grateful to those who serve the country with all their heart: PM Narendra Modi 
11:14 am: In the month of October last year, I was blessed with opportunity to dedicate the National Police Memorial to the nation. I do hope that you will pay a visit to the National Soldiers' Memorial and the National Police Memorial: PM Narendra Modi 
11:11 am: The concept of the National Soldiers' Memorial is based on the notion of four concentric circles, which depicts the journey of a soldier from coming into being, culminating in his martyrdom: PM Narendra Modi 
11:09 am: It is not possible for me to express in words, the contribution of our police and security forces in guarding the nation: PM Narendra Modi 
11:08 am: This new memorial has been instituted in the heart of Delhi, in close vicinity of India Gate and  Amar Jawan Jyoti. The National Soldiers' Memorial is a symbol of the nation's gratitude to those men who made the supreme sacrifice after we gained Independence: PM Narendra Modi
11:07 am: It always pinched me that there was no National War Memorial in the country. Hence, we decided to construct it and I am happy to inform that it stands completed now: PM Narendra Modi 
11:06 am: Our armed forces have always shown unparalleled courage. On one hand, they have displayed impeccable capabilities in restoring peace; on other, they have retaliated befittingly in the language terrorists understand: PM Narendra Modi 
11:05 am: The families of the martyrs are filled with inspiration for all of us: PM Narendra Modi 
11:03 am: Today our nation has the courage to fight back terrorism and those who are responsible for the attacks: PM Narendra Modi 
11:01 am: My heart is heavy thinking of the Pulwama terror attack, in which many of our Army jawans lost their lives: PM Narendra Modi 
11:01 am : Prime Minister Narendra Modi begins his address on radio-broadcast Mann Ki Baat