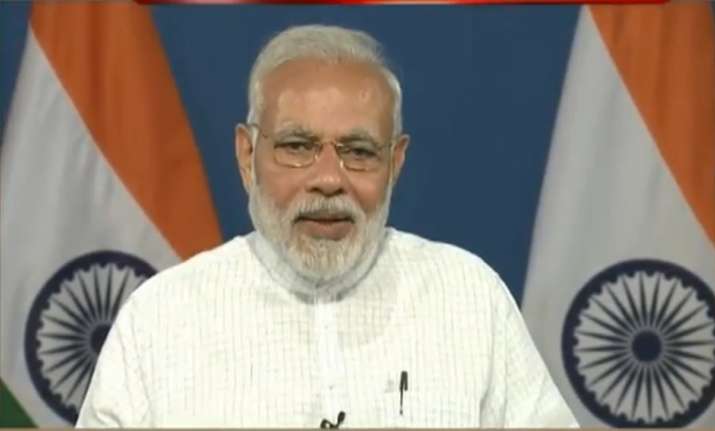 Prime Minister Narendra Modi on Tuesday interacting with lakhs of beneficiaries of the Pradhan Mantri Awas Yojana (PMAY) through video conferencing. Underlining that his Government is committed to provide housing to all by 2022, PM Modi said that the housing project is linked with the dignity of people.
​ "This scheme is central to our endeavour of providing a house to every Indian," PM Modi tweeted ahead of the interaction session.
Lakhs of people have got a house due to the Pradhan Mantri Awas Yojana. This scheme is central to our endeavour of providing a house to every Indian.

Tomorrow morning, at 9:30 AM, I look forward to interacting with beneficiaries of the PMAY, via video conferencing.

— Narendra Modi (@narendramodi) June 4, 2018
PMAY, projected as Housing For All Scheme, has been further bifurcated into two parts - PMAY (rural) and PMAY (urban).
In February this year, the Centre gave nod for the construction of over 1.86 lakh more affordable houses for urban poor under its urban housing scheme, taking the total number of houses to over 39.25 lakh.
The Centre would build 2.95 crore houses under the Pradhan Mantri Awas Yojana (rural) in the country by 2022.
Highlights of PM Modi's interaction with PMAY benefiaciaries: 
10:40 am: Earlier no one paid attention to our aspirations. You have personally worked for the poor and due to you we have got our own home: Rekha from from Chhindwara in Madhya Pradesh tells PM Narendra Modi.
10:30 am: Poverty alleviation is only possible by providing amenities and empowering underprivileged ones, says PM Modi.  
10:20 am: Ranjana Devi from Lucknow tells PM Modi she never believed that she would own a pucca house. "All previous governments just made tall promises but they never fulfilled them, but your government is doing what it promised," Ranjan Devi tells.
10:15 am: Usha Bai Gond from Jabalpur in Madhya Pradesh says that PMAY has transformed her life. "I have my own home for the last one year. Before that I faced inconvenience and could never get good sleep," Usha Bai says. 
10:10 am: Begambee Kadarbek  from Vellore, Tamil Nadu tells PM Modi earlier she had a shanty and had to face plenty of difficulties."I am very happy, I sleep in peace now," she tells PM Modi. "I must share with you that we never had to pay any bribe in order to get a house. The process was simple and there was no corruption," she adds.
10:05 am: PM Modi interacting with Phulmati Baghel, one of the beneficiaries of PMAY from Bastar in Chhattisgarh. She describes how her life has changed after she got a pucca house built under PMAY.
During UPA government,beneficiaries were selected through BPL(Below Poverty Line) list. We started doing selection through socio-economic-caste-censux, with the help of which we added those beneficiaries who were left earlier: Prime Minister Narendra Modi #PradhanMantriAwasYojana pic.twitter.com/NZBBoYGK3M

— ANI (@ANI) June 5, 2018
10:03 am: Due to PMAY, there are employment opportunities being created for people. At the same time, we are working on skill development to enable faster and better quality construction of the houses, says PM Modi.
09:55 am: The focus is to ensure more women, Divyang sisters and brothers, people from SC, ST, OBC and Minority communities get access to housing. PMAY is linked with dignity of our citizens, says PM Narendra Modi.
09:50 am: The housing sector is being invigorated with latest technology. This is enabling faster construction of affordable houses for the poor in towns and villages: PM Modi.
09:46 am: We have been working to free the housing sector from middlemen, corruption and ensuring that the beneficiaries get their own home without hassles, says PM Modi.
09:44 am: The NDA Government is giving great importance to the housing sector. We are working towards ensuring that every Indian has a home by 2022, when India marks 75 years since Independence: PM Modi.
09:41 am: Every human desires his or her own house. A person becomes much happier when he or she has a house. The Awas Yojana is not merely about brick and mortar. It is about a better quality of life and dreams coming true: PM Modi. 
09:40 am: Owning a house is a dream of every one in the society. Aapka sapna, mera sapna hai, says PM Modi.
09:30 am: PM Narendra Modi interacting with lakh of beneficiaries of the Pradhan Mantri Awas Yojana (PMAY) through video conferencing. 
The Government had launched "Housing for All" in rural areas in November 2016 under which the government proposes to provide an environment friendly and secure house to every rural household by 2022. 
The Government had in June 2015 given its approval for "Housing for All by 2022" for urban areas which provided for rehabilitation of slum dwellers, promotion of affordable housing for weaker sections through credit-linked subsidy and subsidy for beneficiary-led individual house construction or enhancement. 
Watch: PM Modi interacts with lakhs of beneficiaries of PMAY