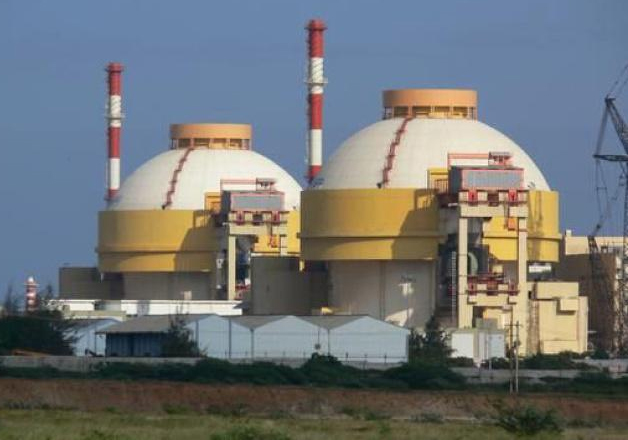 Prime Minister Narendra Modi, Russian President Vladimir Putin and Tamil Nadu Chief Minister Jayalalithaa today jointly dedicated to the nation the first 1,000 MW unit of the Kudankulam Nuclear Power Project (KNPP).
Speaking on the occasion through video conferencing from New Delhi, PM Modi said that Kudankulum 1, an Indo-Russian project, was an important addition to the continuing efforts to scale up production of clean energy in India.
"I have always deeply valued our friendship with Russia and it is fitting that we jointly dedicate Kudankulam Nuclear Power Plant (KNPP) Unit 1. This also signals our joint commitment to build pathways of partnership for green growth," he said.
Putin, speaking from Moscow, said it was a big event for all.
PM Modi, Russian President Vladimir Putin and TN CM to jointly inaugurate Unit 1 of Kudankulam Nuclear Power Plant pic.twitter.com/ohNAgJGSof

— ANI (@ANI) August 10, 2016
"The power plant is updated with most modern Russian technologies. It is not just construction and commissioning of the power plant. It is well known that Russia is one of the world leaders in nuclear technology and we are glad to share with our Indian colleagues our technology," he said.
The KNPP is located in Tirunelveli district in Tamil Nadu.
Joining the event from Chennai, Jayalalithaa said KNPP was a "monument commemorating the long standing, abiding and deep friendship between Russia and India and that she had supported implementation of the project, at Kudankulam in Tamil Nadu's Tirunelveli district, all through her 10 years in office".
The KNPP had been set up using the Russian VVER type reactors based on enriched uranium and its second unit was expected to start operations later this year.
The completion of the first unit was delayed in view of strident protests by local people, who raised safety concerns, before it became operational.
The Pressurised Water Reactor (PWR) VVER-1000 had gone critical in July 2014 and the commercial operations started from December 31 the same year, with the unit coming to the aid of the then power starved Tamil Nadu.
The Cumulative Generation of Unit I since the date of commercial operation is 6,498 million units (MU) with its capacity factor peaking to 100 per cent in June this year.
The Prime Minister said the dedication of KNPP-I marked another historic time line in Indo-Russia relations.
"In successful completion, it is not only another fine example of the strength of our special and privileged strategic partnership, it is also a celebration of our binding friendship. It is only a start of our cooperation in this field," he said.
Modi said five more units of 1,000 MW each would be built at the KNPP.
"Today's event is also a joyful occasion for the team of Indian and Russian scientists and technicians. We salute their dedication and hard work and congratulate them for the fruits of their labour," he said.
Jayalalithaa said nuclear power was "clean, green and firm power", which a rapidly growing state like Tamil Nadu, aspiring for higher growth rates and shared prosperity, really needed.
"The dedication of the KNPP is a major milestone in Indo-Russian cooperation. Throughout my 10 years in office as the Chief Minister of Tamil Nadu I have always extended support to the implementation of the Kudankulam project while at the same time laying focus on allaying the fears of the local people by convincing them about its safety," she said.
Noting that a nuclear power plant takes long time to be built and commissioned than conventional units, she said very high safety standards were needed to be observed.
"The smooth commercial operation of this project, overcoming many obstacles--economic, political and social, global, national and local--stands testimony to the unwavering commitment to the project of the governments of Tamil Nadu, India and Russia," Jayalalithaa said.
Successful commissioning of the project was an object lesson on how the fears and apprehensions of the local population could be and should be allayed through a process of engagement and reassurance and by building community assets and infrastructure, she said.
The Tamil Nadu Chief Minister recalled that when the commissioning of the first unit was getting delayed due to prolonged agitation by the locals, she had taken up the matter with Central government and the fears and concerns were heeded and addressed.
Modi said he always valued the Indo-Russian friendship.
"I am grateful to you Mr President (Putin), the people of India are associated with your great country and personally I have always deeply valued our friendship. It is therefore only fitting that today, we join together to dedicate Kudankulam nuclear power plant Unit 1, to the strength and vigour of our friendship and cooperation particularly Indo-Russian friendship," he said.
The Prime Minister said he looked forward to meeting Putin during the coming G20 conclave in China.
Putin said making operational the "designed capacity of the first unit and in the near future the second unit will significantly enhance India's energy supply and strengthen its economic positions."
The Russian President stressed that the unit was built based on the most modern Russian technologies and that the construction was carried out by specialists of both countries.
"I want to stress that cooperation in the area of nuclear energy is an important part of the privileged strategic partnership of Russia and India," he said.
Putin noted that 85 per cent of the funding for this project was being done by the Russian Federation. Tracing the measures taken by her governments to allay the apprehensions of local people, Jayalalithaa said she was confident that the Nuclear Power Corporation of India would maintain the highest safety standards.
She hoped NPCIL would also ensure continuous power generation in the two units so that Tamil Nadu and neighbouring states can rely on it as a reliable base load power station.
Jayalalithaa thanked the Russian President and people of Russia for their contribution to the development of Tamil Nadu.
"I thank the Prime Minister for dedicating the plant along with Putin. I also request the commissioning of the second unit may be expedited," she said.
Jayalalithaa was seen visibly happy when Modi spoke a sentence in Tamil welcoming her to the event. She acknowledged Modi's gesture with a 'namaskar' and clap.
Modi also mentioned a few lines in Russian in his inaugural and concluding remarks while addressing Putin.