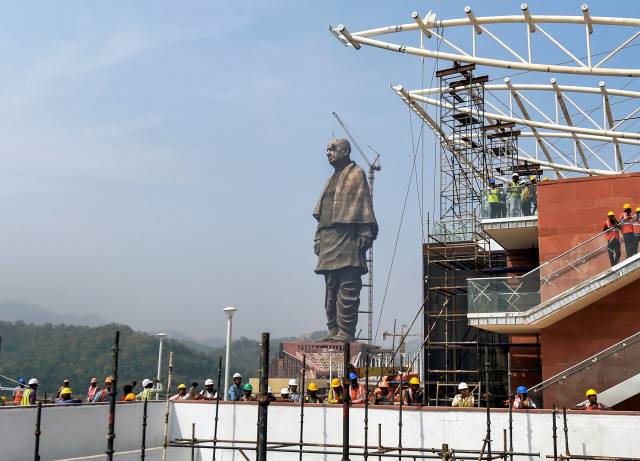 The Statue of Unity, a 182-metre giant structure built in honour of Sardar Vallabhbhai Patel, will be dedicated to the nation on Wednesday by Prime Minister Narendra Modi. The imposing monument, touted as the world's tallest statue, is twice the height of Statue of Liberty and is built on an islet, Sadhu Bet, near the Sardar Sarovar Dam in Narmada district. After Modi unveils the statue, three IAF planes would fly past and create the tricolour in the sky by emitting saffron, white and green colours. PM Modi would also inaugurate the 'Wall of Unity' (a monument defining India's unity) near the statue. At that time, three Jaguar fighter jets would fly past the structure at a low altitude.
10 points:
1. There will be dance and musical performances by artistes drawn from 29 states and two Union Territories. Some of other major attractions include inauguration of a 17-km-long Valley of Flowers, a tent city for tourists near the statue and a museum dedicated to the life and times of Patel.
2. A viewing gallery at a height of 135 metres has been created inside the statue to enable tourists to have a view of the dam and nearby mountain ranges.
3. The statue has been built using over 70,000 tonnes of cement, 18,500 tonnes of reinforcement steel, 6,000 tonnes of structural steel and 1,700 metric tonnes of bronze, which was used for the outer cladding of the structure.
4. The statue's construction had received opposition from some tribal groups in Narmada district. Meanwhile, local tribal leaders have announced a boycott of Wednesday's event claiming "mass destruction" of natural resources due to the project.
5. In an open letter addressed to Modi, sarpanches of 22 villages situated near the Sardar Sarovar dam on the Narmada river have said villagers will not welcome the prime minister when he arrives for the function.
6. The Congress said the "real tribute" to Sardar Vallabhbhai Patel would be that his order banning the RSS should be placed at the foot of the 'Statue of Unity' in Gujarat. Senior Congress leader Anand Sharma, at a press conference, alleged that the Bharatiya Janata Party does not have any idols of its own and highlighted that Patel was from the Congress and also a former president of the party.
7. The CPI flayed the Narendra Modi government for "splurging" nearly Rs 3,000 crore on building Sardar Patel's gigantic statue at a time when debt-ridden farmers are "being driven to suicide" and millions of people are defecating in the open for want of sanitation facilities.
WATCH VIDEO: