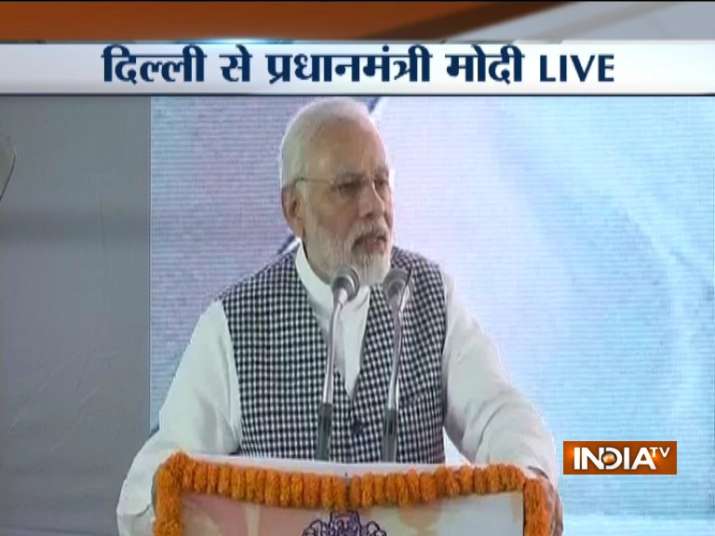 Prime Minister Narendra Modi on Friday boarded the Delhi Metro from Lok Kalyan Marg metro station to 26 Alipur Road, where he dedicated Dr Ambedkar National Memorial to the nation.
Here are the highlights:
07:45 pm: Incidents being discussed since past two days cannot be part of a civilised society. As a country, as a society we all are ashamed of it. I want to assure the country that no culprit will be spared, complete justice will be done. Our daughters will definitely get justice: PM
07:34 pm: 
कांग्रेस सिर्फ भ्रम फैला सकती है, इस कोशिश की एक तस्वीर इस महीने की 2 तारीख को हम देख चुके हैं।
कभी आरक्षण खत्म किए जाने की अफवाह फैलाना,
कभी दलितों के अत्याचार से जुड़े कानून को खत्म किए जाने की अफवाह फैलाना,
भाई से भाई को लड़ाने में कांग्रेस कोई कोर-कसर नहीं छोड़ रही: PM

— PMO India (@PMOIndia) April 13, 2018
07:32 pm: I challenge Congress to mention one work that it has done for Baba Saheb Ambedkar and his respect: PM Modi
07:24 pm: Congress had applied all strength to remove Baba Saheb's name from nation's history. This is the harsh reality that when he was alive, Congress made all attempts to disrespect him.
07:20 pm: In 2015, we strengthened the law against atrocities on Dalits. We have increased the number of crimes against Dalits enlisted in the law from 22 to 47: PM
07:18 pm: We will not let the SC/ST Act get affected, says PM Modi
07:15 pm: Baba Saheb would not have imagined that after independence govt with a working culture of 'latkana, atkana & bhatkana' will come to power. In the last 4 years our govt has re-started work on programs & schemes that have been pending for many-many years
07:14 pm: PM Modi talks about atrocities on Dalits, says his government has brought stricter laws for the benefit of Dalits. 
07:12 pm: 45 crore Indians benefited under Ayushman Bharat, 2 crore 16 lakh Dalits benefited under Mudra Yojana
07:08 pm: 
बाबा साहब की विचारधारा के मूल में समानता अनेक रूपों में निहित रही है।
सम्मान की समानता,
कानून की समानता,
अधिकार की समानता,
मानवीय गरिमा की समानता,
अवसर की समानता: PM

— PMO India (@PMOIndia) April 13, 2018
07:07 pm: After Atal Ji's govt, when Congress came to power they closed the files related to this project, when we were given a chance to serve people in 2014 we dug out the files and worked on it: PM Modi at Dr. Ambedkar National Memorial
06:58 pm: UPA govt delayed memorial construction by 7 years. We are completing old projects: PM Modi
06:55 pm: Many govts came to power after independence but what should have been done much earlier, has happened now, after decades. This memorial is a tribute to Baba Saheb Ambedkar: PM Modi 
06:50 pm: PM Modi inaugurates Dr. Ambedkar National Memorial at 26 Alipur Road
06:35 pm: 
Prime Minister Narendra Modi at Dr. Ambedkar National Memorial at 26, Alipur Road in #Delhi pic.twitter.com/WiZ9fJQkCK

— ANI (@ANI) April 13, 2018
06:11 pm: 
Prime Minister Narendra Modi dedicated Dr. Ambedkar National Memorial to the nation #Delhi pic.twitter.com/drKmMoP0H5

— ANI (@ANI) April 13, 2018
05:49 pm: 
Delhi: PM Modi clicks selfies with metro commuters on his way to 26, Alipur Road, where he will dedicate Dr. Ambedkar National Memorial to the nation pic.twitter.com/JWd2pbN6ko

— ANI (@ANI) April 13, 2018
05:40 pm: 
Delhi: PM Modi arrives at Lok Kalyan Marg metro station, he will travel via metro to 26, Alipur Road, where he will dedicate Dr. Ambedkar National Memorial to the nation. pic.twitter.com/yEz2IMlMnf

— ANI (@ANI) April 13, 2018