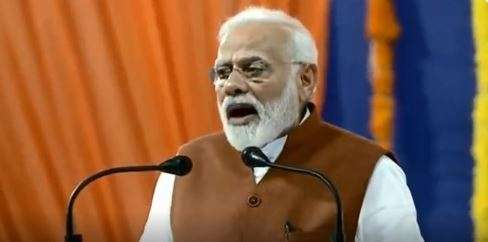 Prime Minister Narendra Modi on Sunday embarked on Mission South India with plans to inaugurate a slew of projects and address public meetings in Andhra Pradesh, Tamil Nadu and Karnataka. 
His first rally was held at Guntur in Andhra Pradesh, following which he addressed a public gathering in Perumanallur village in Tamil Nadu's Tiruppur at 3:30 pm. In the evening the prime minister will hold a rally in Karnataka's Raichur at 06:30.  It was PM Modi's first rally in Andhra Pradesh since the ruling TDP pulled out of NDA. 
In Tamil Nadu, Modi laid foundation stone of 100-bed Employees' State Insurance Corporation (ESIC) health facility at Tiruppur, a new integrated building at Trichy Airport and modernisation of Chennai airport. Modi also dedicated to the nation, the 470-bed ESIC Hospital and the Bharat Petroleum Corporation Ltd's Ennore Coastal Terminal. He also inaugurated crude oil pipeline from Chennai Port to Chennai Petroleum Corporation Limited's (CPCL) Manali Refinery here. In addition, passenger service on the 10-km section of the Chennai Metro Rail -- AG-DMS Metro station to Washermenpet Metro station -- was also inaugurated by Modi.
In Karnataka, Modi first laid the foundation stone of the IIT-Dharwad and dedicated the city distribution project in Dharwad and 1.5-tonne Mangaluru strategic petroleum facility (SPR) and the 2.5-tonne Padur SPR facility of the state-run Indian Strategic Petroleum Reserves Ltd (ISPRL).
Watch out this space for highlights from PM Modi's rally in Hubli, Karnataka today: 
7:45 pm: The previous govt sanctioned 13 lakh houses in the urban areas, out of which only 8 lakh were completed. However, our govt sanctioned 73 lakh houses in 55 months, out of which 15 lakh have been completed: PM 
7:44 pm: Those whose income people would fear to talk about, now are appearing before agencies, says PM Modi
7:43 pm: Your chowkidaar is removing middleman from all ways, this is why the honest have faith in Modi and the others don't, says PM
7:42 pm: In the past 4 years, our govt has continuously worked for the poor and the middle class: PM 
7:37 pm: 
पिछली सरकार ने अपने 10 वर्षों में शहरी इलाकों के लिए कुल 13 लाख घर स्वीकृत किए थे, जिसमें से सिर्फ 8 लाख ही पूरे हो पाए थे।

जबकि NDA की सरकार ने बीते 55 महीने में 73 लाख शहरी आवास स्वीकृत किए हैं, जिसमें से 15 लाख तैयार हो चुके हैं और 39 लाख घरों पर काम तेज़ी से चल रहा है: PM

— narendramodi_in (@narendramodi_in) February 10, 2019
7:36 pm: 
7:35 pm: We are also preparing for the next generation infrastructure in the various cities of the country: PM 
7:34 pm: Projects worth Rs. 5000 crores have been inaugurated few moments ago which gives an impetus to the vision of development for all: PM
7:33 pm: We miss the presence of Shri Anant Kumar ji who always worked for the development of Karnataka and the welfare of the poor: PM
7:31 pm: 
विकास की पंचधारा- यानि बच्चों को पढ़ाई, युवाओं को कमाई, बुजुर्गों को दवाई, किसान को सिंचाई और जन-जन की सुनवाई, इसी विजन पर सरकार आगे बढ़ रही है।

इस सिलसिले को जारी रखते हुए थोड़ी देर पहले 5 हज़ार करोड़ रुपए से अधिक के प्रोजेक्ट्स का शिलान्यास और लोकार्पण किया गया है: PM

— narendramodi_in (@narendramodi_in) February 10, 2019
7:30 pm: NDA govt has been working with the aim of Sabka Saath Sabka Vikas, says PM Modi
Watch out this space for highlights from PM Modi's rally in Tiruppur, Tamil Nadu today: 
4:28 pm: It was the Vajpayee Government that passed a Constitutional Amendment to safeguard interests of SC and ST communities. The strongest amendments in the SC ST Act have been made by the current NDA Government: PM 
4:27 pm: I dare them to give me one instance where the BJP has altered the social justice system in the nation. On the contrary, it was the Third Front Government, where both DMK and Congress were partners that removed reservation in promotions for SC and ST communities: PM Modi
4:26 pm: Equality of opportunity is our commitment. That is why, Govt brought a Bill to ensure 10% reservation for the poor of General Category. We did this without altering existing reservation system in the country, which has brought substantial benefits to Dalits, Tribals & OBCs: PM
4:25 pm: For the well-being of our fishermen and fisherwomen, a separate department of fisheries will be set up. In a way this will bring the Government at their doorstep. Previous Governments should answer why they did not think of this: PM 
4:24 pm: The UPA's poorly thought of waivers come once in ten years, benefit very few farmers and cost the nation Rs. 50 thousand crore. The NDA's PM Kisan Yojana is a yearly benefit and will ensure Rs. 7 lakh 50 thousand crore goes to the bank accounts of the farmers in 10 years: PM Modi
4:22 pm: When we announced the scheme (PM Kisan Samman Nidhi), the faces in the Opposition benches were worth seeing! After all - if the farmer becomes prosperous, if the farmer does not remain in poverty then how will they keep misleading them? No wonder they were shocked: PM
4:21 pm: For the first time in India's history, a Govt has spoken about doubling the income of farmers and that is our Govt. During the Budget, the historic PM Kisan Samman Nidhi was announced under which farmers having under 5 acres of land will be given Rs. 6000 per year as support: PM
4:20 pm: Whenever an election is coming, they (Opposition) will talk of a poorly thought out loan waiver, which neither reaches the poor farmers nor ends their burdens: PM Modi
4:19 pm: The Opposition is good at one thing and that is to spread panic. Time and again, they have tried to mislead the farmers, workers and youngsters of the nation: PM Modi
4:18 pm: The Maha-Milawat or adulterated alliance is a club of rich people trying to promote their dynasties. They neither understand poverty nor they have a vision to serve the poor: PM in Tiruppur, Tamil Nadu 
4:15 pm: Their political culture of abusing Modi may give them space in television but the elections are fought on one's vision for the nation, not slander and attack: PM Modi
4:13 pm: Whatever question they are asked, their answer has to have the word Modi! They are asked- what is your view towards agriculture welfare, their answer is Modi! They are asked- what is your plan for MSME sector, they say Modi: PM Modi
4:12 pm: The good work of the NDA Govt has made some people very unhappy. Those who thought power was their divine right, those who thought only they are born to rule are disturbed because here is a Govt that is working. Their unhappiness has turned into desperation and abuse: PM
4:11 pm: In his typical arrogance he said- why is the middle class so worried about price rise, they buy such expensive ice cream & mineral water! Mr. Recounting Minister, middle class does not need the taunts by you & the Congress. They have rejected you & will continue to do so: PM
4:10 pm: I want to take you back to the UPA time.There was a very wise Minister from Tamil Nadu, you know who I am talking about right- the Recounting Minister. The man who thinks all the knowledge in the world resides only in his brains: PM Modi
4:07 pm: A few days ago, the nation saw with utter disgust a story of how top UPA minister kept pushing a narrative that our Army will do a coup. Every Indian knows that our Army can do no such thing but look at the Congress attitude: PM
4:05 pm: Congress also leaves no opportunity to belittle our army. One of their leaders used un-pardonable language for the Army Chief. When our Army went across the borders to do surgical strikes, the Congress questioned that as well: PM Modi
4:03 pm: From the seas to the skies, the Congress has several scams associated with defence. In the process, the party did not allow the modernisation of the defence forces for the long years that they were in power: PM @narendramodi
4:01 pm: Those who got the opportunity to rule the nation for years did not bother about India's defence sector. For them, this sector was only about brokering deals and helping their own set of friends: PM Modi
3:55 pm: I have today laid the foundation stone of a new integrated building at Trichy airport.I am glad to announce that after completion of this building, about 3000 passengers can be facilitated at this airport in peak hours: PM Modi
3:49 pm: I bow to the land of Tiruppur. This land stands for bravery. It is the land of Tiruppur Kumaran who sacrificed his life for the National Flag, this land belongs to Dheeran Chinnamalai whose bravery motivates the whole country: PM Modi
Watch out this space for highlights from PM Modi's rally in Andhra Pradesh today: 
#In past 55 months Central govt has released adequate funds for the development of Andhra. However, the state govt never utilised the funds allocated in an efficient manner: PM
#I want to remind Chandrababu Naidu that our aim is not to create wealth for ourselves but to create wealth for the nation and to ensure the efficient use of wealth and resources of the nation: PM
#The leader of TDP who should have worked for Congress Free India is now supporting the Congress Party: PM
#CM of Andhra promised the sunrise of Andhra but fixated with the rise of his own son: PM 
#He promised the redevelopment of Amravati but is now engaged in his own development : PM
#Chandrababu Naidu promised a u-turn for state, but took a u-turn himself: Modi hits hard at TDP chief
#Those who left the people of the country to live in smoke are now spreading the smoke of lies in the country. CM of Andhra Pradesh has also lost his vision of development and has joined them in their competition of abusing Modi: PM
#Our government is continuously working to make India a clean fuel economy and several projects have been initiated in this direction : PM
#Amravati is also called as the "Oxford" and the youth from different places come here to fulfill their dreams : PM
#Indian govt is making oil reserves to ensure seamless supply in case of crisis: PM
#The Central govt has selected Amravati as the heritage city under the "Hriday Scheme" : PM Modi
#Prime Minister Narendra Modi lays the foundation stone for Krishnapatnam Bharat Petroleum Corp. Ltd (BPCL) coastal terminal project in Guntur.