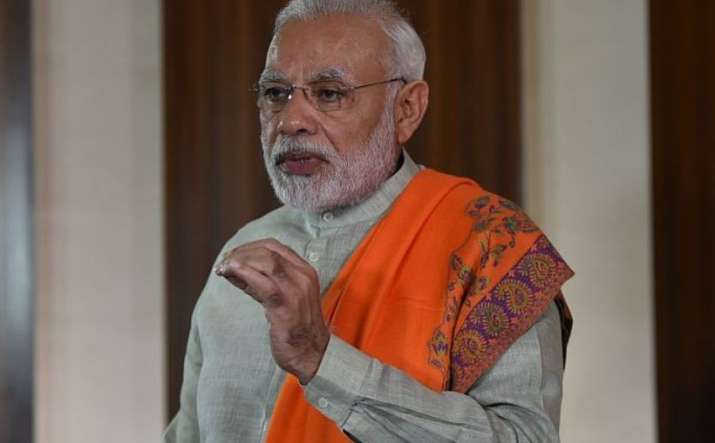 Prime Minister Narendra Modi addressed the people of India and abroad through 'Mann Ki Baat' programme. This was the 43rd edition of the Mann Ki Baat programme, which was broadcast on All India Radio (AIR), Doordarshan and also on the Narendra Modi mobile application. 
It was streamed on the YouTube channels of the Prime Minister's Office, Ministry of Information and Broadcasting and DD News. 
In his 42nd edition, Modi emphasised on preventive health care awareness, stating that extensive work is going on to set up Health Wellness Centres across the country.
Here are the Highlights: 
11:28 am: India tested its first nuclear bomb at Pokhran on Budhh Purnima on 11 May 1998: PM
11:27 am: PM Modi wishes the nation for Budhh Purnima, 'we are developing infrastructure around Buddh holy sites'
11:24 am: Prophet Mohammad saab believed that if you have something in excess then you must share it with the needy. that is why the concept of charity is important during Ramzan: PM
11:23 am: Ramzan a good time to remember the lessons of kindness and sacrifice taught by Prophet Mohammed: PM
11:20 am: PM Modi quotes Rabindranath Tagore's Geetanjali: He, who has knowledge has the duty to impart it to students
Answering a question from Ayan Kumar Banerjee, PM @narendramodi is talking about Gurudev Tagore. #MannKiBaat pic.twitter.com/Bx8fEz505s

— PMO India (@PMOIndia) April 29, 2018
11:19 am: In 2017-18, around Rs.35,000 cr have been spent on water conservation; around 150 lakh hectares of land got benefited with these steps: PM 
11:18 am: 
Let us work towards water conservation. #MannKiBaat pic.twitter.com/YzCS3xwFmm

— PMO India (@PMOIndia) April 29, 2018
11:17 am: Water conservation a tradition of India: PM
11:14 am: Whenever I can, I see the Good News India programme on DD. The stories shared during the programme are extremely interesting: PM
11:11 am: Sports, HRD and Water ministry has started a new Swachh Bharat Summer Internship Programme: PM
Are you ready to take part in the Swachh Bharat Summer internship? #MannKiBaat pic.twitter.com/ckomCJ1H5t

— PMO India (@PMOIndia) April 29, 2018
11:08 am: Celebrities like Akshay Kumar have promoted Fit India in interesting ways: PM
Superb Sunday morning playing volleyball with these boys at Juhu beach today. Always been a believer of 'a little goes a long way' So what are you doing to stay fit this weekend? Do share your photos/videos/experiences using #FitIndia 🙃 pic.twitter.com/RY6PRGwD7U

— Akshay Kumar (@akshaykumar) April 22, 2018
11:08 am: I would additionally like to mention, that the movement of 'Fit India', without any expense, is called 'YOG': PM 
11:07 am: Our women athletes have India very proud during this year's Commonwealth Games: PM
11:05 am: India won medals in all wrestling competitions: PM
11:04 am: Commonwealth Games 2018 medal winners speak about their journey and thank the government for support: PM
11:02 am: No words can describe the feeling when our athletes, draped in tricolour, stand on the victory podium and the national anthem is played: PM
11:02 am: Every Indian proud of  our wonderful performance at 2018 CWG: PM
11:00 am: PM Modi begins by talking about India's wonderful performance at the 2018 CWG.
10:55 am: PM Modi to address the nation on Mann ki Baat shortly
10:30 am: There are many such efforts by hardworking citizens that make India proud. Let us talk about them during #MannKiBaat at 11 AM today. Do join: PM Modi