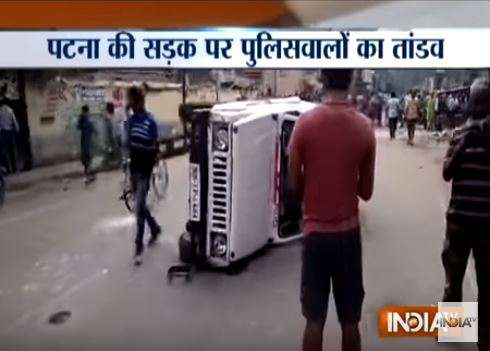 Policemen in Patna are agitating against their own  department because of death of one of their female colleagues early on Friday.
They are damaging police vehicles and attacking officers.
More than 300 trainee officials, including a large number of women, at the Patna Police Lines plundered officers quarters after their fellow member lost her life due to negligence and inhuman behaviour of her seniors.
The protesters complained that they were exploited in the name of duty for hours without even being provided basic facilities.
The dead woman police official was suffering from dengue, and had applied for leave. However, despite repeated request application she was not granted leave permission.
Huge number of police officials along with the public stated to protest and damaged a temple structure nearby.
The protesting officials have attacked City Superintendent of Police, his Rural counterpart, Officers-in-charge at half a dozen police stations besides others.
They pelted stones and even thrashed some of the senior officers, police said.
Watch Video: