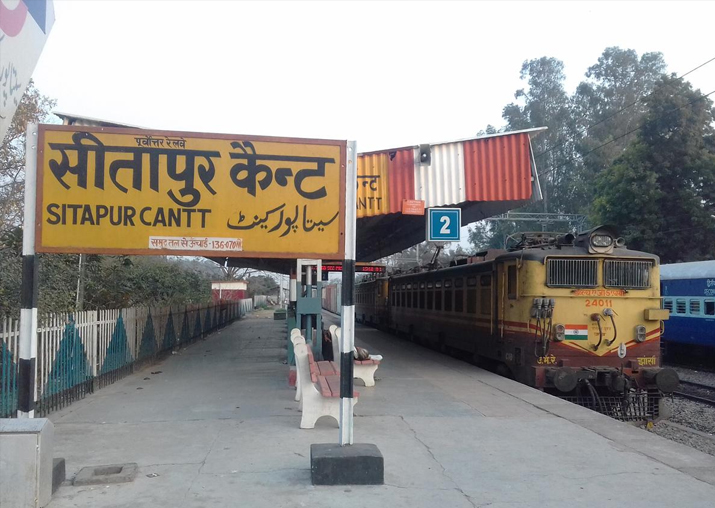 In yet another incidents of train derailment in recent times, two trains – one goods and one passenger train, were derailed at the same spot in a span of 10 hours in Sitapur district of Uttar Pradesh. However, no casualties were reported from anywhere. 
According to officials, the engine of a goods train jumped the tracks near Sitapur Cantt station around 7.10 am at the exact same spot in Sitapur city in the district where the 54322 Burhwl-Balamau passenger train derailed around 9:40 pm yesterday.
North Eastern Railway spokesperson Alok Srivastava said that a section engineer (permanent way), who was in charge of the track, has been suspended, adding that an inquiry committee has been formed to investigate the twin derailments. 
The track was repaired after the first derailment and services were restored around 1.20 am. Multiple trains ran on the same track without any hitch until the goods train derailed this morning. The spokesperson said the services on that route were held up for the second time when the engineers attended to the tracks this morning. The problem, however, was taken care of and train services were allowed once again after 10.20 am today.
The divisional railway manager of North Eastern Railway, Alok Kumar, who rushed to the spot for inspection, said some trains were diverted following the second accident and the caution speed on the route was put at 10km/hr. 
There has been a spate of train accidents in Uttar Pradesh over the past two months. On September 7, seven carriages of the Shaktipunj Express derailed in Sonbhadra district. Just a few weeks before that, on 23 August, nine coaches of the Delhi-bound Kaifiyat Express derailed in Auraiya district, injuring 21 people. On August 19, six bogies of the Puri-Haridwar Utkal Express jumped the tracks in Khatauli, leaving 20 people dead and 80 injured. 
According a report in PTI, nearly 53 per cent of the 586 train accidents in the last five years were due to derailments. Since November 2014, there have been 20 rail accidents, many of them minor. The worst accident was the November 20, 2016 derailment of the Indore-Patna Express near Kanpur which resulted in 150 deaths and over 150 injuries. 
WIth PTI Inputs