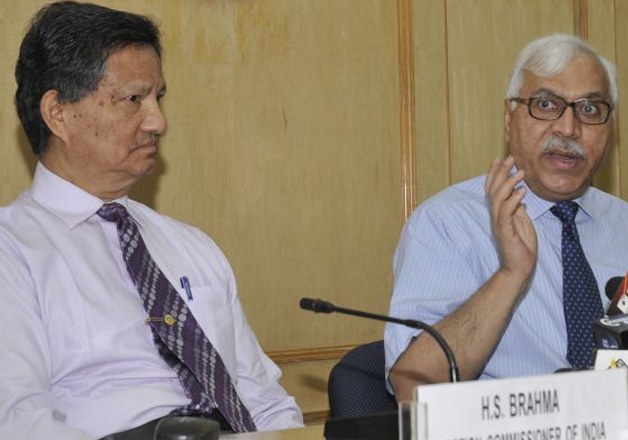 Amid politicians raising doubts over the efficacy of electronic voting machines or EVMs in view of allegations of tampering, former Chief Election Commissioners S Y Quraishi and H S Brahma called for a quick rollout of the Voter Verified Paper Audit Trail (VVPAT) machines in all polling stations across the country to silence them. 
"I personally feel worried when political parties and politicians question the credibility of voting machines. The credibility of EVMs has been established beyond doubt through court judgments. Having said that, I think, once we cover all polling stations with VVPATs, it will put an end to 90 per cent of the allegations leveled against EVMs and we will have the most dependable election process in the world," The Indian Express quoted Brahma as saying. 
Ever since the BJP registered an emphatic win in the Uttar Pradesh Assembly polls, several parties, including the Bahujan Samaj Party (BSP), Samajwadi Party and Aam Aadmi Party, have questioned the infalliability of EVMs. 
VVPAT machines produce a printout of the vote cast using an EVM which can be shown to the voter to dispel any doubts. This printout is then deposited in a box and can be used to resolve any dispute regarding the election. 
In 2019, the Supreme Court had ordered the EC to implement the VVPAT system in a phased manner and the Commission had committed to have it installed by the time of the 2019 general elections. 
According to the report, the EC has been continuously asking the Law ministry for funds to purchase around 16 lakh VVPATs worth Rs 3,100 crore but hasn't received any funds till date. 
"The (incumbent) CEC has said that it will take 30 months to manufacture the machines. The cost of Rs 3500 crore is peanuts when it comes to conducting elections in a transparent manner. This is something the government should look at immediately. What are they doing?" said Quraishi. 
The two former Chief Election Commissioners also endorsed the introduction of the totaliser machines, a proposal that has been repeatedly rejected by the NDA government. These machines increase the secrecy of voting by counting votes polled at 14 polling booths together, as against the current practice of announcing booth-wise results.