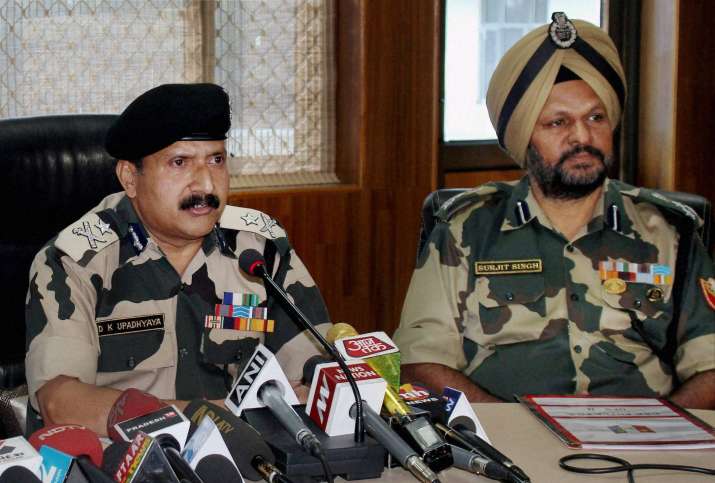 Pakistan's border guarding paramilitary force Rangers, with active connivance of its Army, is deliberately shelling Indian civilian areas along the International Border which is a violation of international norms, Border Security Force (BSF) said today. 
BSF Inspector General D K Upadhyay said his force does not target civilian population of Pakistan and to buttress his point, he released a video clip showing targeting of a military post across the International Border, amid assertion that 14 Pakistani posts had been destroyed in retaliatory fire. 
"We have replied and retaliated almost on all the posts where from the fire has come," he said. 
In view of increased shelling and firing by Pakistan, Jammu and Kashmir government has ordered closure of all the 400 schools along the International Border (IB) and Line of Control (LoC). 
In Delhi, Union Home Minister Rajnath Singh said the government will do whatever necessary "to protect the honour and prestige of the country." 
Addressing a press conference here amid escalation on the border, Upadhyay said Pakistan Rangers have violated ceasefire "countless" times in recent past and Pakistan Army is giving full support to its paramilitary force. 
"Pakistani forces are firing heavy mortars deliberately towards Indian civilian areas. BSF never fires towards any Pakistani civilian area. We fire only towards military bunkers from where Pakistani forces fire. We have inflicted heavy damage on 14 Pakistani bunkers," he said. 
Upadhyay said Pakistan Army is giving full support to Pakistan Rangers, which have violated ceasefire "countless" times in recent past. 
Pakistan has violated the "human rights and international norms" by targeting civilian areas, Upadhyay said, a day after 8 people, including two children and four women, were killed in Jammu province due to Pakistani shelling and firing.
The IG said if there has been any civilian casualty on the Pakistani side, it might be "collateral" damage since civil population lives very close to the military bunkers on that side. 
To prove his point, he displayed a video clip of 'Hand Held Thermal Imager' (HHTI), showing BSF retaliating to a barrage of shelling with a specific assault decimating a Pakistani post. 
Pakistan had yesterday claimed that its six civilians were killed in cross-border firing by Indian troops. 
"Our accurate firing have resulted in huge damage to their bunkers and security posts. BSF only targets the military establishments but not the civilian areas. It is duly verified from this video clip," the BSF IG said. 
"The Indian retaliation was measured and accurate, and aimed at military targets, rather than Pakistan civil population," Upadhyay said. 
He said "an accurate and coordinated fire assault by the BSF executed with complete precision, destroyed a number of Pakistani forward morchas and posts." BSF had yesterday said it had destroyed 14 Pakistani posts. 
"Inputs from sources reveal several casualties to Pakistani Rangers and serious damage to 14 Pakistani Rangers' posts and numerous defence bunkers," he said.  
But Pakistan is continuously making efforts to help the terrorists to enter into Indian side, the IG said adding "BSF is fully prepared to give a befitting reply to any such attempt". 
BSF has foiled 5 infiltration bids along IB in Hiranagar sector of Kathua district since October 20-21 night. 
"Since the forced infiltration was foiled on the intervening night of October 20 and 21, five infiltration bids have been foiled and a total of 14 infiltration bids were foiled this year...out of them, three bids have been made close to Diwali night", he said. 
In an escalation on the tension along border, eight people, including two children and four women, were killed and 22 injured yesterday as Pakistani troops targeted civilian areas in Jammu region inviting strong retaliation by Indian forces who killed two Pakistani soldiers and destroyed their 14 posts. 
With cross-border firing escalating, Home Minister Rajnath Singh reviewed the situation at a meeting in Delhi which was attended by Defence Minister Manohar Parrikar, National Security Advisor Ajit Doval, Army Chief General Dalbir Singh Suhag and other top officials. 
Tension along the IB and LoC escalated since the surgical strikes by army targeting terror launch pads in Pakistan-occupied Kashmir (PoK) on September 29. 
(With PTI inputs)