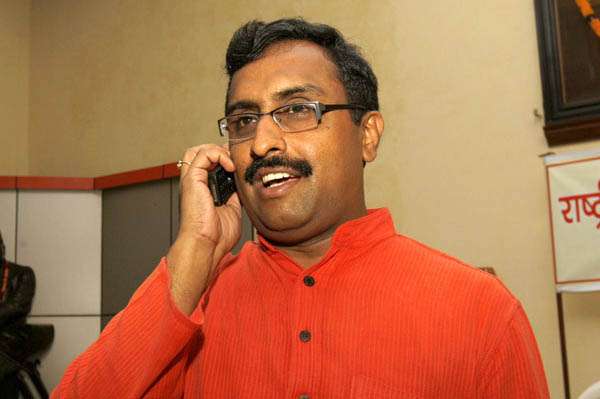 BJP leader Ram Madhav Tuesday said the opposition's only agenda behind forming an alliance was to oust the Bharatiya Janata Party (BJP) and Prime Minister Narendra Modi from power.
"The opposition is forming an alliance, but there is neither a flag nor any agenda. They want to oust the BJP and Narendra Modi from power," Madhav said at an event on the concept of 'Akhand Bharat' and Kashmir. 
"We are in favour of clean and brave politics. The BJP formed an alliance government in Jammu and Kashmir considering people's welfare. The BJP bravely withdrew its support from the government as it was an ideological fight," he said. 
The BJP's national general secretary said he belonged to the ideology that has the concept of 'Akhand Bharat' in its DNA.
"Anyone can try as much as they want but we will not give even an inch of Kashmir. We are ready to fight against terrorism for 50 years. Do not worry about the country, Kashmir is in safe hands," he said.
The BJP leader criticised the Congress for not standing in support of the prime minister. 
"The Congress clapped when Imran Khan criticised Prime Minister Narendra Modi. But, when Nawaz Sharif called Manmohan Singh a 'dehati aurat' (rustic woman), we, including Modi ji, stood in support of the then prime minister," he said.
He said the government was ready to talk on every issue with Pakistan, but there cannot be any compromise on Kashmir issue.
Strict action would be taken against those perpetrating terrorism in Jammu and Kashmir, Madhav said.
"The government is committed for providing good administration in the valley and wants local bodies polls to be held. There would be a situation when there will be no difference in Kashmir and rest of the states of the country," he said.