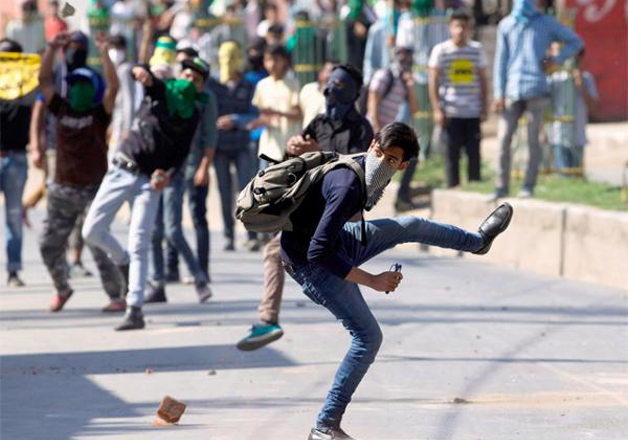 New Delhi: Pakistan is waging a war against India through social media considering the fact that the Kashmiri youths are actively taking part in anti-India campaigns on Facebook, Twitter and other social media platforms.
The rise in such campaigns, especially after the July 8 killing of Hizbul militant Burhan Wani, has now become a matter of serious concern for the security officials, forcing them to snap all mobile internet connectivity and also suspend calling facility on mobile phones across the Valley.
According to a Times of India report, nearly half of the social media responses to Wani's killing have been from unknown geographical locations. In total, as per the analysis, there were approximately 1.26 lakh reactions on social media between July 8 to 14 against Wani's death of which 54,285 were from unknown locations.
About 49,159 responses (40 per cent) were from India while over 10,000 (8 per cent) were from Pakistan, the TOI report said, adding that nearly 7200 reactions came from countries like the US, UK, UAE, Saudi Arabia and China.
"This is a worrying trend because it indicates that there is a proxy war in cyber space that Pakistan is indulging in. People are tweeting or commenting in the social media space to spark off trouble and there is no accountability,'' the report quoted sources in the I&B Ministry as saying.
Officials said that those posting comments may have switched off their location so that they could not be traced.
Wani was shot dead on July 8 by security forces along with two of his accomplices in Kokernag area. He was seen as the main draw for many young and educated boys in south Kashmir turning into terrorists in recent months.
The 22-year-old had even featured in videos and photos posing with weapons. He had opposed setting up of settlements for migrant Pandits in the Valley and also Sainik Colonies. Through videos posted on the social media, he threatened local policemen to stay away from anti-militancy operations.
He extensively used platforms like Facebook, WhatsApp to recruit young Kashmiris for the terror outfit.