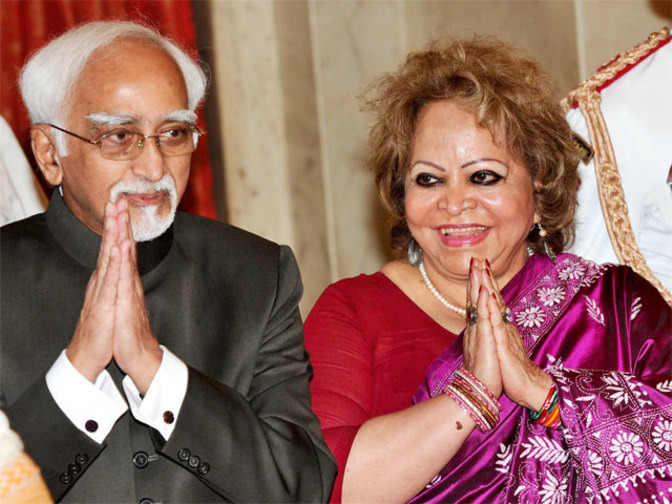 Salma Ansari, wife of former Vice President Hamid Ansari, has dismissed the possibility of any "political motive" behind the alleged attempt to poison a water cooler in a madrasa run by a trust headed by her.
"I do not think any political group would have stooped to this level," she told reporters here last evening.
On Saturday, a vigilant Class 8 student of the Chacha Nehru Madrasa here had averted a major tragedy by alerting his principal that rat poison had allegedly been mixed in the container of the school's water cooler by two unidentified men, according to the police.
The 13-year-old boy noticed two men tinkering with the water cooler and emptying some white powder from a packet with a 'rat poison' label into the container of the machine, they had said, quoting an FIR filed by Rashid Ali, the public relations officer of the school run by the Al-Noor Trust.
Sensing mischief, he rushed to the principal's office to inform him about the incident, the police had said.
Salma, who has been running the charitable institution for over 18 years, said she would recommend the name of the boy for a National Bravery Award.
"The incident appears to be a well-planned move to defame this institution and in the process cause damage to me also," she said.
There are 4,000 students including boarders who are receiving education in the madrasa free of cost. The school authorities have decided to step up security measures in the institution by installing CCTV cameras at different strategic points in the compound of madrassa, Salma, the chairperson of the trust, said.
City Superintendent of Police Atul Srivastava said that efforts were on to identify the two men and the motive behind the crime.
"We will also investigate the lapses, if any, of the school authorities that led to a major breach of security and the entry of mischievous elements inside the school despite the presence of the security staff," he said.
"We will also investigate as to why the water tank of the cooler was left unattended to by the school authorities. This could have led to a serious situation," he said.