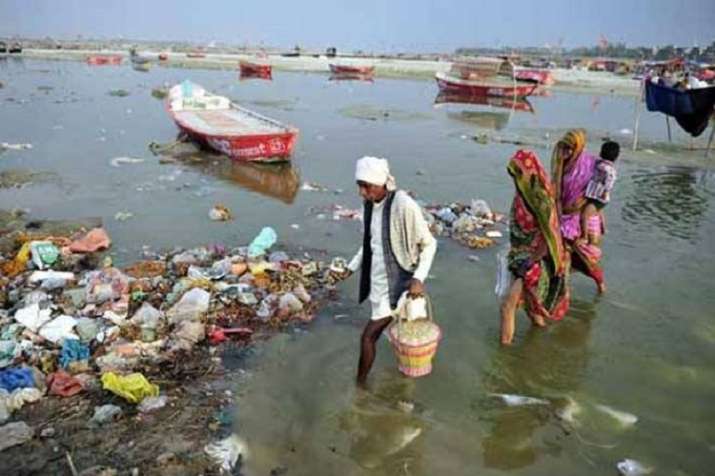 The National Green Tribunal (NGT) on Monday formed a committee to oversee the rejuvenation work of river Ganga. The committee headed by a former high court judge was formed following the need for thorough monitoring and systematic approach for cleaning the river from Haridwar to Unnao.
The rejuvenation work of Ganga was a 'huge task', said bench headed by NGT Chairperson Justice Adarsh Kumar Goel adding people of eminence who devote full time were needed to achieve the desired result.
"Though some progress has been made but it cannot be said that the progress made meets the complete expectation," the bench, also comprising justices Jawad Rahim and SP Wangdi, said.
The NGT directed the committee to assume charge within one month from Monday. The green panel also said it might preferably function from Kanpur, but it would be open to the members to participate from the place they consider to be appropriate.
The cleaning work of river Ganga has been divided into different segments by the NGT, which include Gomukh to Haridwar (Phase-I), Haridwar to Unnao (segment B of Phase-I), Unnao to border of Uttar Pradesh, border of Uttar Pradesh to border of Jharkhand and border of Jharkhand to Bay of Bengal.
The water of the river, between Haridwar and Unnao in Uttar Pradesh, was unfit for drinking and bathing, the tribunal had earlier said and had expressed anguish over the situation.
"People are drinking and bathing in the Ganga out of reverence and respect. They do not know that it may be dangerous to their health. If cigarette packets can contain a warning saying it is 'injurious to health', why not the people be informed of the adverse effects (of the river water)," the NGT had said.
The NGT had voiced dissatisfaction over the steps taken by the Uttarakhand government to clean the Ganga.
The green tribunal on July 19 had said the situation was extraordinarily bad and hardly anything effective has been done to clean the river.
In a detailed judgement, the green panel had passed a slew of directions to rejuvenate the Ganga, declaring as 'No Development Zone', an area of 100 metres from the edge of the river, between Haridwar and Unnao.
It had directed National Mission for Clean Ganga (NMCG) to install display boards at a gap of 100 kilometres, indicating whether the water was fit for bathing or drinking.