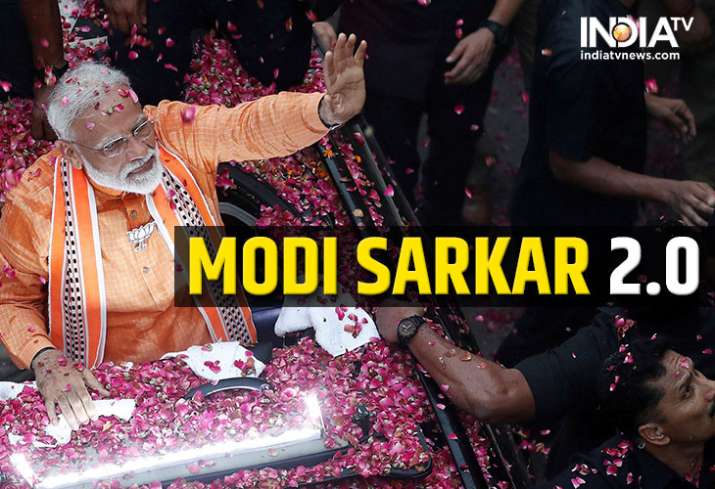 President Ram Nath Kovind will administer the Oath of Office and Secrecy to Prime Minister Narendra Modi and other members of the Union Council of Ministers on May 30 at 7 pm at Rashtrapati Bhavan, an official communique on Sunday said.
President Ram Nath Kovind appointed Narendra Modi as the prime minister, on Saturday, after he was unanimously elected as the leader of the BJP-led National Democratic Alliance (NDA).
President Kovind also requested PM Modi to advise him about the names of others to be appointed members of the Union Council of Ministers; and indicate the date and time of the swearing-in ceremony to be held at the Rashtrapati Bhavan.
The entire Union Council of Ministers will also take the oath along with the prime minister.
PM Modi was formally intimated when he called on the president at the Rashtrapati Bhavan on Saturday evening in his capacity as the leader of the BJP Parliamentary Party, which has majority support in the House of the People following the general election to the 17th Lok Sabha.
The Bharatiya Janata Party (BJP) is in the process of preparing invites for global leaders for the swearing-in ceremony, which is likely to be organised on an even bigger scale than the 2014 one.
Invitations are likely to be sent out to countries part of the Association of Southeast Asian Nations (ASEAN), along with member States of the South Asian Association for Regional Cooperation (SAARC).
Reports, however, say Pakistan may not be invited to PM Modi's swearing-in this year. In 2014, the then prime minister of Pakistan, Nawaz Sharif, had attended the event.
The BJP registered a historic mandate in the recently concluded Lok Sabha election -- with 303 seats. The NDA has more than 350 seats to its credit in the 17th Lok Sabha.